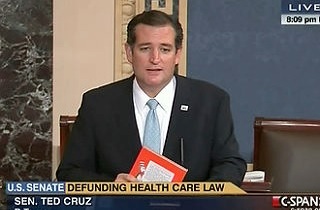 As the government shutdown enters its fourth day, the architect of the Republican strategy to use the Continuing Resolution to defund Obamacare is coming under increasing fire from his Senate colleagues. The New York Times is reporting that a private Wednesday lunch meeting of Republican senators devolved into what one anonymous attendee described as a "lynch mob" directed at Senator Ted Cruz (R-TX), whose 20-hour Sillibuster™ set the table for their current predicament.
Even Senate Minority Leader Mitch McConnell (R-KY), who waxed optimistic with fellow Kentuckian Sen. Rand Paul (R-KY) in a candid moment, was reportedly among those jumping all over Cruz at that Wednesday lunch. From NYT's Jonathan Martin:
And on Wednesday at a private luncheon, several Senate Republicans — Dan Coats of Indiana, Ron Johnson of Wisconsin and Kelly Ayotte of New Hampshire — assailed Senator Ted Cruz of Texas, who has led the movement to block funding for the health law.

Ms. Ayotte was especially furious, according to two people present, and waved a printout from a conservative group friendly to Mr. Cruz attacking 25 of his fellow Republican senators for supporting a procedural vote that the group counted as support of the health law.

Ms. Ayotte asked Mr. Cruz to disavow the group's effort and demanded he explain his strategy. When he did not, several other senators — including Mr. Johnson, Mr. Coats and even Mitch McConnell, the minority leader — joined in the criticism of Mr. Cruz.

"It just started a lynch mob," said a senator who was present.
Cruz wasn't, apparently, bothered by his colleagues' criticism, but rather that the media reported on it. From Politico:
"It seems that there is nothing the media likes to cover more than disagreements among Republicans, and apparently some senators are content to fuel those stories with anonymous quotes," Cruz told POLITICO. "Regardless, my focus — and, I would hope, the focus of the rest of the conference — is on stopping Harry Reid's shutdown, ensuring that vital government priorities are funded, and preventing the enormous harms that Obamacare is inflicting on millions of Americans."
Lucky for Cruz, there's a large enough portion of the Republican base that doesn't care how much he is hated by the Republican establishment, a large enough portion to give Cruz the lead in early Republican primary polling. An extended government shutdown won't help Republicans with ordinary Americans, but will help Cruz consolidate his lead with a base that has steadily abandoned establishment candidates.
Have a tip we should know? tips@mediaite.com