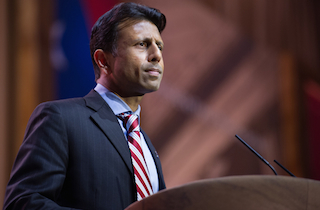 The speech Louisiana Governor Bobby Jindal (R) is set to give in London on Monday makes significant references to all-Muslim "no-go zones" in European cities, the existence of which are roundly disputed by everyone from scholars to people who live in them.
"In the West, non-assimilationist Muslims establish enclaves and carry out as much of Sharia law as they can without regard for the laws of the democratic countries which provided them a new home," Jindal is expected to say, according to a copy of the text obtained by USA Today.
"It is startling to think that any country would allow, even unofficially, for a so called 'no-go zone.' The idea that a free country would allow for specific areas of its country to operate in an autonomous way that is not free and is in direct opposition to its laws is hard to fathom."
"No-go zones" catapulted into the discourse last week thanks to a pair of claims made on Fox News about no-go zones in Birmingham, UK and Paris, France — both of which came as news to those communities. They even drew a rebuke from British Prime Minister David Cameron.
Since then the concept of no-go zones has been widely mocked in Europe, with a French television show bravely sending its correspondents to the supposedly-prohibitive areas only to find nothing, and a website publishing a restaurant guide to the areas highlighting wine bars and Japanese fusion joints.
Fox has issued multiple apologies for the claims, including this one from host Julie Banderas:
To be clear, there is no formal designation of these zones in either country… and no credible information to support the assertion that there are specific areas in these countries that exclude individuals based solely on their religion. There are certainly areas of high crime in Europe as there are in the United States and other countries – where police and visitors enter with caution. We deeply regret the errors and apologize to any and all who may have taken offense including the people of France and England.
There is no word yet on whether these sections of Jindal's speech will be amended in light of these recent developments.
[h/t USA Today]
[Image via Christopher Halloran / Shutterstock.com]
——
>> Follow Evan McMurry (@evanmcmurry) on Twitter
Have a tip we should know? tips@mediaite.com