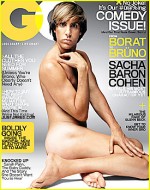 GQ's July issue is the "Comedy Issue" so who better to put on the cover than a naked and coquettish Sacha Baron Cohen?. It's a really funny image, designed perfectly to promote both his new movie Bruno AND the contents of the magazine. But as Stephanie Clifford reports in the NY Times, the naked visage of Bruno has made a lot of people nervous — just like the movie:
On the cover of July's GQ magazine, Sacha Baron Cohen contorts himself into a relatively modest pose for a nude guy. In character as the Austrian fashion reporter Brüno, the comedian rotates his torso back, raises his thigh, and tucks his front flank in an apparent effort to cover up any naughty bits. Nary a nipple is showing.

That wasn't chaste enough for some retail outlets, which are treating the cover as though it were a copy of Penthouse. In Chicago, Salt Lake City and Washington grocery stores, Target stores and drugstores have been turning the magazines backward or covering them up.
Per GQ editor Jim Nelson:
GQ's editor in chief, Jim Nelson, said he didn't mind: "You always want newsstands to put the magazine out front and center. If people can't see it, they can't buy it. Then again, you also want people to talk about your magazine, and a little controversy is never a bad thing."
Yes it's true, people are talking about it — Just Jared, CBS News (?) and even HuffPo asks if Bruno's Cover is hotter than Jennifer Aniston! Will all these piecesa and all these Google hits be enough to offset the prudes? Who knows, those numbers won't be out for a while. What we do know is that they did very well in the most importrant metric: Cover Wars –  weekly feature in which we compare cover art across a similar category. Suffice it to say, there are a number of reasons for the GQ edit staff to be proud!
Have a tip we should know? tips@mediaite.com