Guess Which NYC Rag Was Willing to Publish Name and Face of Elliot Rodger's Crush
A daily battle is waged down Gotham way over which city tabloid is more shamelessly reprehensible, the New York Post or the New York Daily News — though the Post is the Yankees to NYDN's Mets most of the time.
So it was today. Both rags gave front-page coverage to the woman whom shooter Elliot Rodger blamed in his manifesto as the original source of his hatred of women that turned violent in Isla Vista last weekend, a woman who struggled to even remember Rodger. There was, however, a significant difference in the two papers' coverage: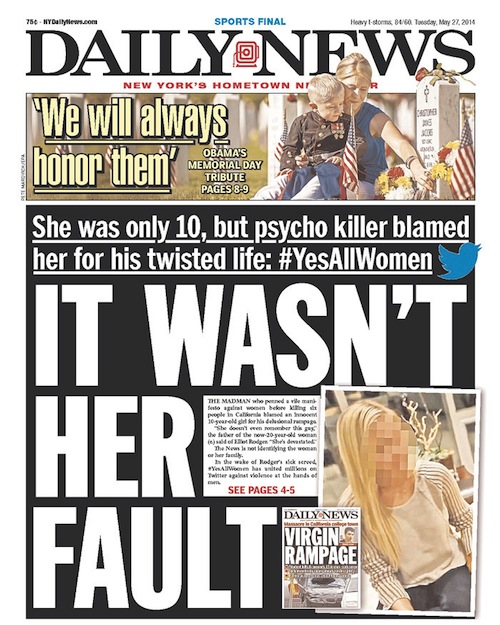 RELATED: NY Post Very Concerned with How 'Beautiful' and 'Stunning' This 19-Year-Old Suicide Victim Is
That's a pixelated photo blocking the woman's face on the NYDN cover; she stares out unmediated from the Post's cover for all to see (though not shown here for obvious reasons). It actually gets worse: inside the Post ran more photos of the woman in question as an adult, including a full-page spread of her in a bathing suit. The photos were taken from her Facebook and MySpace pages and placed under the banner "UNWITTING." Truer words never headlined.
The Post also names the woman, which the Daily News explicitly declined to do. (Mediaite went NYDN's direction, omitting name and photos; for contrast's sake, the New York Times does not appear to have touched this particular development at all.) Perhaps this is because the Post does not mention that the woman's father now fears copycat killers will target his daughter, an element contained in NYDN's write up. Anybody so inclined now has her name and photos in handy tabloid form.
[Image via Newseum]
——
>> Follow Evan McMurry (@evanmcmurry) on Twitter
Have a tip we should know? tips@mediaite.com