Harper Lee's Friends Think She Was Manipulated into Publishing To Kill a Mockingbird Sequel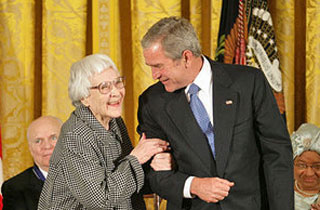 The circumstances surrounding Harper Lee's announcement of a To Kill a Mockingbird sequel is getting shadier by the minute, with a group of Lee's friends coming out with allegations that her lawyer is taking advantage of a woman in declining health.
The book, titled Go Set a Watchman and billed as a sequel to the original and featuring a grown version of protagonist Scout Finch, was recently "discovered" by Lee's lawyer, Tonja Carter, and will be released later this year with an initial print run of 2 million copies. But according to residents of Monroeville, Al., the town which inspired the setting of the famous book and where Lee resides in a nursing home, the famously press-shy author would not have wanted Go Set a Watchman to be published.
"I know her health has declined," Diane Simmons, a Monroeville resident who attended church with Lee, told AL.com. "It seems a little strange that this book would be coming out now. It seems out of character for how we've known her."
Other residents agreed:
"I don't think she agreed to do it. I think it's her attorney being greedy, because Ms. Lee was a very private person who didn't like a lot of publicity," [Janet] Sawyer said.

"She had a stroke several years ago and her mind is not in a condition to make these decisions, I don't think, personally. Tonja Carter doesn't allow her to see her friends anymore. She's isolated her from the world in order to manipulate her."

The restaurateur says she used to frequently serve the Lee sisters potato soup in her quirky eatery until two years ago, when the author — whose friends call by her first name, Nelle — stopped by for the last time, by that point requiring a wheelchair to get around.

Sawyer said that the novelist always said she didn't want her second book, which had been the subject of persistent rumors in Monroeville until its existence was confirmed this week, to be published until after she had passed away, as she wanted to avoid the limelight in the twilight of her life.
Lee suffered a stroke in 2007 that left her wheelchair-bound and partially blind and deaf, as well as forgetful, leaving her vulnerable to people looking to take advantage of the author: in 2013, she and her sister Alice successfully sued her literary agent for duping her into giving him the copyright to Mockingbird, a property worth tens of millions of dollars.
Notably, the reporters at AL.com attempted to reach Lee at her nursing home, only to be rebuffed by staff. "Anyone who wants to see Ms. Lee needs to go through her lawyer," the employee said. "She's not seeing anyone."
[AL.com]
[Image via White House/Wikimedia Commons]
— —
Have a tip we should know? tips@mediaite.com