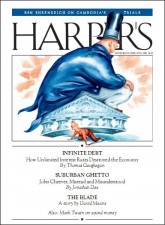 As a 24-year-old reporter Rick MacArthur wanted a magazine, so his father bought him one called Harper's. This was 1980 and the title was folding, but the magazine had been around since 1850, making it the second oldest publication to be continuously published, and thus, definitely one worth saving. Thirty years later, MacArthur is the publisher of a once again struggling Harper's, and the subject of a fascinating New York Times piece today about the recent and sudden firing of editor Roger D. Hodge.
"We are going through a crisis," Mr. MacArthur told his staff recently. The magazine, a rare nonprofit publication funded by MacArthur's foundation, is floundering and adjustments must be made to save the historic title. In what is reported as a "rambling 40-minute monologue," MacArthur laid out the the issues: "readership was down 35,000, newsstand sales were plummeting, the only direct-mail piece that seemed to work was 20 years old." And, worst of all, irrelevancy: "the mainstream media is ignoring it to death," he said.
And so he took rash action, firing Hodge, "in a five-minute conversation as Mr. Hodge was finishing his breakfast croissant." Brutal, and now public, but will it really address the issues at the core of the Harper's stasis, not the least of which is an archaic, rickety brand with little to no appeal for a new generation of reading and writing intellectuals?
The article also mentions that MacArthur "makes much" of his own editorial experience, despite his role as publisher, and some "wonder whether he plans to take a larger editorial role." A few ideas for improvement are mentioned: working closely with advertisers, a commitment to "muckraking," and so on, though MacArthur and the magazine's new editor, Ellen Rosenbush, said "that they did not plan 'any big changes here.'" But, maybe it's about time the changes increased in scale?
Editorial Shake-Up as Harper's Tries to Stabilize in a Downturn [New York Times]
Have a tip we should know? tips@mediaite.com