"Held By the Taliban" — Times and Rohdes Ready to Share Details of Kidnapping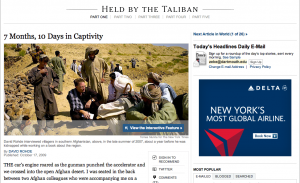 Almost a year ago, while reporting on the Taliban in Afghanistan for the New York Times, journalist David Rohde was taken captive. Rohde returned home in June, and now he's telling the action-packed and emotional story of his kidnapping and captivity in Afghanistan and Pakistan on the front page of the Times.
From Part 1 of Held By The Taliban:
While one guard pointed his Kalashnikov at me, the other took my glasses, notebook, pen and camera. I was blindfolded, my hands tied behind my back. My heart raced. Sweat poured from my skin.

"Habarnigar," I said, using a Dari word for journalist. "Salaam," I said, using an Arabic expression for peace.

I waited for the sound of gunfire. I knew I might die but remained strangely calm.

Moments later, I felt a hand push me back toward the car, and I was forced to lie down on the back seat. Two gunmen got in and slammed the doors shut. The car lurched forward. Tahir and Asad were gone and, I thought, probably dead.
The Times and others news outlets, including Wikipedia, took flak earlier this summer for keeping news of Rohde's kidnapping quiet in order to protect him and his family. News might have been scarce before, but it looks like over the course of five installments penned by the man himself, there will be no shortage of detail.
Related:
Freed NYT Reporter Reminds Us of Dangers of Real Journalism [Mediaite]
Nameless in Tehran – Empty Bylines in Sunday's New York Times Articles [Mediaite]
Have a tip we should know? tips@mediaite.com