Time Also Publishes Fake Sarah Palin Comment About Christina Aguilera (Updated)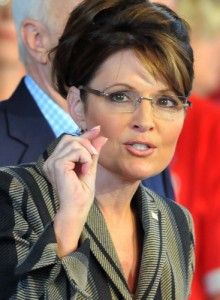 Remember how Us Weekly's website published a story about Sarah Palin trashing Christina Aguilera over her Super Bowl performance? And how it turned out to be a story fabricated for a satirical site? And Us Weekly almost immediately scrubbed the story? 'Course you do. Well, evidently, Time doesn't, because they repeated the exact same story.
As our rumor-busting, record-straightening, good-hair-day-having friends at Gossip Cop – who first broke the story of Us Weekly's mistake – report, Time mentioned comments made by Palin "during an interview with Sean Hannity" (comments fabricated, of course, for the original, satirical piece on SuperTuesdayNews.com) in a post about Conan O'Brien's take on Aguilera's lacking performance:
In a post about Conan O'Brien making fun of Aguilera, Time casually observes, "And you thought Sarah Palin went overboard by commenting that she wanted to deport the singer?"
Time's comment could possibly have been tongue-in-cheek, of course…. but it lacks the proper context to let anyone reading their piece know that Palin never actually said anything about deporting Aguilera.
In their post, Time links to a post on Current's (as in, Current TV) site – which does indeed link to the original piece of satire, urging readers to visit it "For more Election 2012 laughs."
Time could very easily cover its… self… here were it to simply acknowledge that the comments were meant to be satire, and were never actually uttered by Palin.
Here's Gossip Cop's screenshot of the original Time article: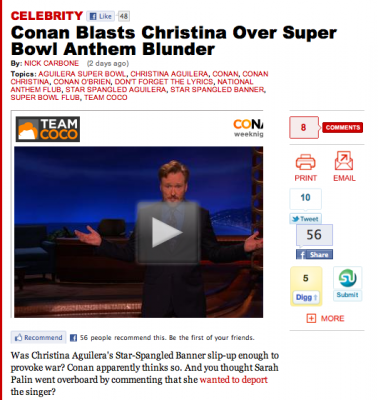 Update:
Time reached out to us to say that, yes, their post was indeed meant to be tongue-in-cheek. In fact, they used that very phrase! Here's the clarification they added to the original article:
(CLARIFICATION: Palin did not, in fact, say this. It was a tongue-in-cheek link to an article that was intended as a joke.)
Have a tip we should know? tips@mediaite.com