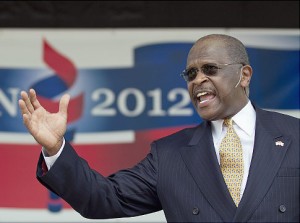 The Herman Cain/Koch Brothers conundrum started earlier this week, when the Associated Press' Ryan J. Foley wrote a piece that outlined Cain's association with a group called "Americans For Prosperity," which is backed by the billionaire Koch Brothers. On Thursday, the New Yorker's Jane Mayer dug a little deeper, asking Cain's managers — and representatives from AFP — about fees Cain may have received for speaking engagements. She couldn't get a straight answer — outside of an assertion that once he announced his run, Cain was not paid for engagements — but did track down public-record tax forms, which revealed that AFP paid $127,794 to the Washington Speakers Bureau, which books Cain. Mayer then dug into Cain's records, and found, "unspecified payments of between $50,000-$100,000 to his company, the New Voice." Mayer found the obfuscation a little concerning:
"There's no record of payments from Americans for Prosperity to Herman Cain on his financial disclosures or the organization's 990," Bill Allison, editorial director of the Sunlight Foundation, a non-profit group favoring government transparency, said. "It defeats the purpose of public disclosure if a candidate's businesses and speakers' bureaus obscure the relationships between moneyed interests and candidates."
Appearing later on CNN, Cain defended his relationship with the Koch brothers:
"I'm very proud of the relationship I have with the Koch brothers as well as Americans For Prosperity."
And why shouldn't he be? Not only are they responsible for Dixie cups and Brawny paper towels, but the dinosaur wing at the American Museum of Natural History is named after one of them.
As far as the political side goes, yes, it's always dangerous when big money mingles with Washington. But that wasn't the focus of these articles. Part of Foley's argument in his AP story was that Cain hired a bunch of AFP employees to help out on his campaign. This is just a natural order of things. You work somewhere, you find people you like, and when you get in a position to hire anyone you want, you bring the people you like from old jobs on board with you. It's not like Cain is giving them no-show construction jobs; his campaign manager is someone he met through AFP, and the man who helped him concoct the 9-9-9 plan was on the board at AFP. They share his ideological view, so why not hire them to help with his presidential campaign? And not listing his AFP affiliation on his website might be sneaky, but it's not illegal; he's trying to paint himself as a businessman — he's introduced at debates as the, "former CEO of Godfather's pizza," even though his association with AFP and as head of the Kansas City Fed would give him more political clout. So it makes sense that his political affiliations are kept in the background, likely until someone questions his lack of political experience and he can bring them up.
In the New Yorker article, Cain's income is made to look like he's hiding something, but he's just playing smart with the current tax code. In an ironic twist, his 9-9-9 plan would essentially eliminate tomfoolery like this. For now, he's just playing by the rules.
Cain's 9-9-9 plan might turn out to be a disaster or a stroke of brilliance (and keep in mind, since new items are taxed in his plan, the paper towels, cups, and toilet paper that the Koch brothers produce will be hit under 9-9-9). And his recent habit of misspeaking is either the sign of a candidate not ready for the limelight or one of a man who is big enough to correct himself when he makes a mistake. His association with the Koch brothers might be worrisome, but it also might just be the sign of a couple rich guys who agree with Cain's view. Still, the fact that he cleverly fills out income tax forms and hires people he likes to work for him are two things that should be non-issues. Whether you like Cain or not, the problem here isn't that he's associated with a couple billionaires who have questionable views on things like the environment and regulation; it's that being associated with shadowy rich folks has almost become the norm for most politicians today.
Have a tip we should know? tips@mediaite.com