Hillary Clinton Claimed To Receive Classified Info While Lacking Security Clearance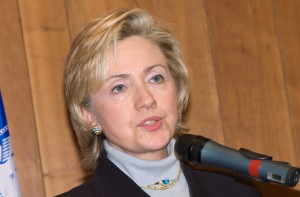 In a recently unearthed 2008 interview, then-Senator Hillary Clinton claimed to have received classified information when she was first lady, despite lacking any security credentials.
At the time, Clinton was in the middle of a heated primary battle with fellow Senator Barack Obama. Clinton pointed to her experience as first lady to bolster her foreign policy credentials, claiming she privy to much of her husband's foreign policy decision-making.
"The New York Times wrote this week that you did not attend National Security Council meetings, you did not receive the president's daily briefing, didn't have a security clearance," ABC News' George Stephanopoulos noted in an interview. "And that calls your experience in the White House into question."
Clinton disagreed with that notion. "I had direct access to all of the decision-makers," she said. "I was briefed on a range of issues, often provided classified information. And often when I traveled on behalf of our country. I traveled with representatives from the DOD, the CIA, the State Department."
As Stephanopoulos accurately recounted, The New York Times reported that Clinton had no security clearance, prompting serious questions about why she had access to classified material: "During those two terms in the White House, Mrs. Clinton did not hold a security clearance. She did not attend National Security Council meetings. She was not given a copy of the president's daily intelligence briefing. She did not assert herself on the crises in Somalia, Haiti and Rwanda."
[h/t Daily Caller]
[Image via Shutterstock]
——
>>Follow Alex Griswold (@HashtagGriswold) on Twitter
Have a tip we should know? tips@mediaite.com