Hoda Kotb Reveals Her "Torrid Affair With Willard Scott" And More Bon Mots To Popeater's Rob Shuter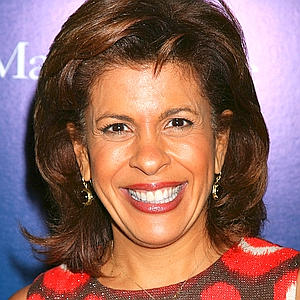 Though you shouldn't judge a book by its cover, it might be okay to judge a book by its title. And based on this title—Hoda: How I Survived War Zones, Bad Hair, Cancer, and Kathie Lee—Hoda Kotb's new memoir is bound to be a fun, juicy read. We're even more inclined to read Hoda after seeing the interview she just did with Popeater's Rob Shuter.
In it, Hoda jokingly reveals the real way she got her Today Show post ("My torrid affair with Willard Scott") and what she thinks of Saturday Night Live's merciless skewering of both her and Kathie Lee Gifford: "Spot on! Why do our producers keep faxing our exact scripts over to 'SNL'? Kristin Wiig is a dead ringer for KLG … but please God don't let Keenan play me this season."
Here are a few more gems from the interview:
What does KLG think of the amazing title?
I sprung it on her during a wine-soaked lunch. She loved it — after the third glass of Chardonnay.

How close have you gotten to attacking KLG?
I am saving it for Pay-Per-View. We are in negotiations now.

The 'Today' show family seems very close, who are best friends off camera?
I saw Meredith and Al making out in the greenroom … so I guess they are.

What's the most embarrassing thing KLG has ever done to you?
I have an idea — tune in tomorrow and see for yourself.

You meet a ton of celebs. Give us a little secret dish. Who was a love bug and who was a nightmare?
Richard Simmons. He was both, and at the end of the day I think he'd agree.
Hoda will be available in stores October 12. Read her entire interview at Popeater.com.
Have a tip we should know? tips@mediaite.com