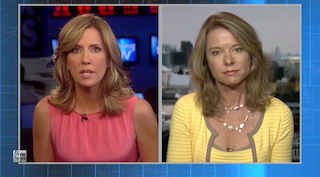 Just as one of the most popular search terms following the Casey Anthony verdict was "Nancy Grace reaction," schadenfreude-enthusiasts are eagerly looking to all News Corp. outlets today to see how they're covering the shuttering of their corporate cousin News of the World amidst massive phone-hacking allegations. So, how are the rest of the Rupert Murdoch-owned outlets tackling this family embarrassment?
Fox News
The cable news network has done couple of segments on the story today including a "Breaking News" announcement of the paper closing which you can see below. It's interesting to note that, with the help of TV Eyes, Mediaite can see that Fox News mentioned the hacking scandal and fallout two times since midnight last night while their competitors at MSNBC and CNN have mentioned it 10 and 13 times respectively in that same time period.
FoxNews.com
Over on Fox News' website, the story was labeled as "Urgent" and was one of the top stories although you had to scroll past a lot of Casey Anthony information to get to it (this shouldn't be seen as Fox News hiding the story, as we know, people love their dead little girl trials). The website's story however, links to a Sky News post (Sky, of course, being in negotiations for a full takeover by News International. Negotiations which may be adversely affected by this scandal) rather than containing original Fox News reporting. It's interesting though that that Sky story contains a Sky News video showing an interview with Labour MP Tom Watson who is quite negative towards News of the World, News Corp., and Murdoch himself (you can watch the Sky News clip below).
Fox Business Network
The Wall Street Journal
Meanwhile, The Wall Street Journal has the story front and center on their homepage with a lengthy article about News of the World's closing. What's even more interesting, Sky News has also aired a video of a number of reporters ambushing Murdoch on a Utah golf course and trying to get his comment. If you listen, you can hear that one of the reporters is from the WSJ itself and pushes to the front to ask if Murdoch still supports Rebekah Brooks. Clearly no fear of angering the big boss man there. You can watch that clip below.
Have a tip we should know? tips@mediaite.com