Indiana State GOP Lawmaker Calls Craigslist Encounter With Man 'A Shakedown'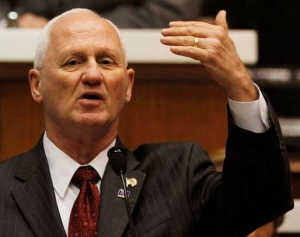 A 64-year-old Indiana state representative, Phillip Hinkle, says he's the victim of "a shakedown" when the Indianpolis Star asked him about a series of emails that suggest the married Republican offered a young man "$80 plus tip" to spend time with him Saturday night at a hotel. "The emails," the paper reports, "sent from Hinkle's publicly listed personal address, ask the young man for 'a couple hours of your time tonight' and offer him cash up front, with a tip of up to $50 or $60 'for a really good time.'" Hinkle is a Republican who voted in favor of a constitutional amendment to ban same-sex marriage.
According to the Star, the two men did meet–but the young man became uncomfortable upon learning that Hinkle was a member of the state legislature:
The email exchange is in response to the Craigslist posting in which the young man — who lists his age as 20 in the ad but says he is 18 years old — says, "I need a sugga daddy."

The young man told The Star that they met, but that he tried to leave after the man told him he was a state lawmaker. He said the lawmaker at first told him he could not leave, grabbed him in the rear, exposed himself to the young man and then later gave him an iPad, BlackBerry cellphone and $100 cash to keep quiet.
Hinkle responded to a request for comment by saying "I am aware of a shakedown taking place." Hinkle's lawyer later said he was investigating the story.
Have a tip we should know? tips@mediaite.com