Investigators Find Evidence Flynn Discussed Sanctions with Russian Official, Despite Denials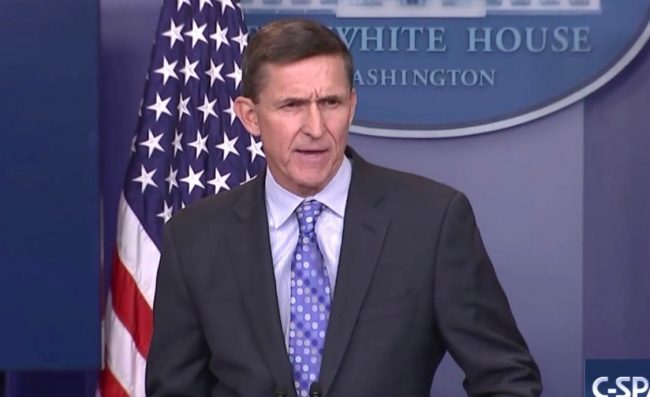 Despite denials from several top White House officials, federal investigators tell The Washington Post they found evidence that Trump National Security Advisor Michael Flynn discussed sanctions with a Russian official in December.
The Obama administration first became suspicious when Russia failed to retaliate against the United States after they imposed sanctions and expelled Russian diplomats. Investigators worried the incoming Trump administration may have given "an inappropriate and potentially illegal signal to the Kremlin that it could expect a reprieve from sanctions."
Investigators soon found evidence that Flynn had been in contact with Russian Ambassador Sergey Kislyak. But Flynn, Vice President Mike Pence, and other Trump officials all gave statements indicating Flynn never discussed sanctions in those communications.
Now a whopping nine high-ranking officials tell The Washington Post otherwise. "All of those officials said ­Flynn's references to the election-related sanctions were explicit," WaPo reported Thursday. "Two of those officials went further, saying that Flynn urged Russia not to overreact to the penalties being imposed by President Barack Obama, making clear that the two sides would be in position to review the matter after Trump was sworn in as president."
Flynn's own spokespeople began to back away from his earlier denials when confronted with The Washington Post story. They now say Flynn "indicated that while he had no recollection of discussing sanctions, he couldn't be certain that the topic never came up."
The White House also made a rather pointed statement in reaction to the story, telling its author Greg Miller that they only said Flynn never discussed sanctions because that's what Flynn told them.
Just adding admin comment on Pence/Flynn: "An administration official stressed that VP Pence based his comments on his convo with Gen Flynn"

— Greg Miller (@gregpmiller) February 10, 2017
[Image via screengrab]
——
>>Follow Alex Griswold (@HashtagGriswold) on Twitter
Have a tip we should know? tips@mediaite.com