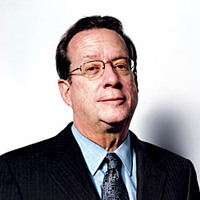 Keith Kelly reported in the NY Post yesterday that Fortune magazine is set to embark on that rarely-effective exercise called a "re-design." He went on to report that John Huey, the Editorial Director of Time Inc (and former Managing Editor of Fortune)  had "assembled a high-level SWAT team of in-house and external experts to revamp the biweekly business magazine."
The re-design is apparently in response to a severe decline in revenue — the same article mentions that ad pages for the first half of 2009 have been down a whopping 39%.  Maybe it IS the art and layout that are keeping the advertisers away. Kelly also reports that Fortune ME Andy Serwer is not involved and quotes an unnamed source as saying "I don't think it's a happy situation."
John Korpics will helm the re-design, a name that is almost synonymous with re-designing titles at Time Inc. After leaving InStyle, Korpics re-imagined Entertainment Weekly, then Money magazine – two titles whose total pages have not increased since getting a new look. A well-respected design director, Korpics has long been considered "one of Huey's boys" by industry insiders. A senior editor at a major national magazine said of Korpics "Martha Nelson fired him from InStyle and Huey keeps looking after him."
The notion of Huey taking care of his own is not lost on many – back in 2002 he created a bit of stir by removing Jim Seymour as Managing Editor of EW at the height of its success. In that spot he placed Rick Tetzeli, a trusted Huey ally and former deputy from his days of Fortune. Tetzeli stepped down from that spot earlier this year, getting "kicked upstairs" to run "special projects" for Time Inc.  Rumors of EW folding have only recently abated, perhaps due to the new leadership of new top man Jess Cagle.
Looking after his "boys" is not uncommon practice for Huey, as Kelly reports:
"To assuage any potentially bruised egos, Huey in the past month awarded Serwer with a new three-year contract, insiders said, which will keep him on the payroll until at least 2012."
An industry insider who no longer works in magazine publishing said "What they're doing with Andy is exactly what they did with Rick. Give him a contract to be nice, and let him work on a redesign. He probably has no idea if he'll be fired." The fact that Serwer was quoted by Kelly appears to support the idea that he is "playing nice" and still a company man. Serwer did play a touch of defense, admitting that he's entertaining offers outside the magazine world.
Huey's power at Time Inc. has been diluted recently, when a management restructuring redistributed the titles that he directly oversees.  Nelson, the highly respected former ME of People now oversees the very profitable "People Group" (made up of EW, People and InStyle). Bill Shapiro oversees the lifestyle group (various shelter titles including Real Simple) and Huey has the News group (Time, Fortune, Sports Illustrated.) Shapiro and Nelson still technically report to Huey, but a former Time Inc staffer says "Martha has all the power now – she's the only one with succesful magazines."
Apart from the real success of Real Simple, InStyle and People, the once august publisher founded by Henry Luce has recently lost a lot of value in the eyes of Wall Street. And while rumors of a spin-off from the Time Warner mothership persist, Huey continues to avoid direct criticism. A recent BusinessWeek column by Jon Fine posited the Time Inc problem's thusly:
"The current environment for selling all of Time Inc. is terrible. And before you sell, you'd want to know how much of the current bad news comes from a temporary ad downturn and how much comes from permanent structural change in the media world."
A germane concept, but curiously absent is any notion of questionable (bad?) management decisions. The page counts of former industry stalwarts like Time, Fortune and Sports Illustrated are pamphlet-esque. Is the Time empire burning? If so, why is no one pointing out that Emperor Huey has no clothes? A Google News search for "John Huey" reveals only corporate press releases, passing mentions or glowing reviews.
A number of insiders suggest that the real reason John Huey has gotten a pass from the media is that he's a notorious leak to the press. No reporter wants to anger him for fear of losing a generous source. A 2006 New York Magazine profile written by Kurt Andersen is titled "The Good Old Boy of Time Inc."
The Time Inc. ship has brought on a lot of water under the helm of Huey, and no one seems to be willing to report that the Titanic is sinking. Perhaps the old boy network extends beyond the hallowed halls of Time Inc.
UPDATE – Keith Kelly reports today that John Korpics has been named Creative Director to Fortune, replacing outgoing Design Director Robert Perino.
(Disclosure – my wife Geraldine Hessler worked under John Korpics in the Entertainment Weekly Art Department from '98 to 00, then replaced him as Design Director, a title she held until 2008.)
Have a tip we should know? tips@mediaite.com
Colby Hall - Founding Editor