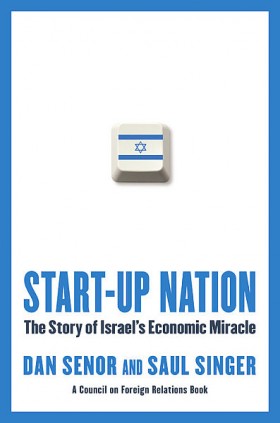 "If there is one story that has been largely missed despite the extensive media coverage of Israel, it is that key economic metrics demonstrate that Israel represents the greatest concentration of innovation and entrepreneurship in the world today." That is the central thesis of Start-Up Nation: The Story of Israel's Economic Miracle, by Dan Senor and Saul Singer, out this week. It's one I saw again and again in my fortnight in the Holy Land, where my pilgrimages included not only trips to the Western Wall and the Dead Sea but to forward-thinking VC firms, boundary-pushing media/tech startups and industry gatherings of Silicon Valley-type geeks, except they code from right to left.
Senor and Singer point out that, despite Israel's modest population of 7.1 million on an embattled slice of land in the Middle East, they've got more start-ups than far larger, more stable countries like Canada, Japan, India, Korea and the U.K. The authors calculate that as 3,850 Israeli start-ups at the time of the book's close for publication — one for every 1,844 Israelis; they also note that there are six more Israeli companies on the NASDAQ than from all of Europe combined.
Something about coming from an embattled sliver of a country—home to just one one-thousandth of the world's population—makes Israelis skeptical of conventional explanations about what is possible.
Senor and Singer use VC money — the mother's milk of start-ups — as another metric for their assessment:
In 2008, per capita venture capital investments in Israel were 2.5 times greater than in the United States, more than 30 times greater than in Europe, 80 times greater than in China, and 350 times greater than in India. Comparing absolute numbers, Israel—a country of just 7.1 million people—attracted close to $2 billion in venture capital, as much as flowed to the United Kingdom's 61 million citizens or to the 145 million people living in Germany and France combined.
They also point out that the Israeli economy keeps on growing, despite the ongoing conflict and frequent violence in the region. They write:
During the six years following 2000, Israel was hit not just by the bursting of the global tech bubble but by the most intense period of terrorist attacks in its history and by the second Lebanon war. Yet Israel's share of the global venture capital market did not drop—it doubled, from 15 percent to 31 percent. And the Tel Aviv stock exchange was higher on the last day of the Lebanon war than on the first, as it was after the three-week military -operation in the Gaza Strip in 2009.
So what gives? A young entrepreneur, now on his second or third successful company, put it this way the other day in Tel Aviv: "The best thing Israel can export is our minds — we don't have natural resources to export, so we invest in education and innovation. This is the best natural resource we have in Israel." (By the way, this guy sold his first company when he was 16.) It's not just founders, either — Israel is chock-a-block full of the IT technicians and engineers and experts that keep a company on the cutting edge. An eBay exec tells the author: ""Google, Cisco, Microsoft, Intel, eBay . . . the list goes on. The best-kept secret is that we all live and die by the work of our Israeli teams." For companies planted firmly in Silicon Valley soil, those faraway roots in the desert are even more amazing.
Does this mean you have to learn how to dodge Katyusha rockets and subsist on falafel to launch a successful start-up? Of course not, though falafel is delicious. Senor and Singer trace the stories of several Israeli companies, entrepreneurs and decision-makers, and come up with a few takeaways that can apply across the board (hint: a little chutzpah helps). On the next few pages, Mediaite has an exclusive excerpt from Start-Up Nation which shows a little of the Israeli start-up mentality in action.
>>>EXCERPT: Start-Up Nation (or, how to raise $200 million, and why hybird cars are like mermaids)
Have a tip we should know? tips@mediaite.com