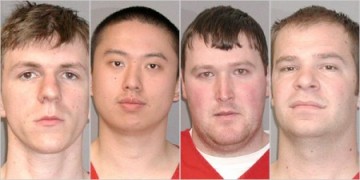 There was a moment when conservative vigilante videographer James O'Keefe was a man of the web — making a name for himself online, most notably at Big Government, but also on the sites that tracked his exploits (ahem). Then Fox News took notice — and how could they not? — while O'Keefe peacocked in his pimp costume. Now, O'Keefe and his associates have landed on the front page of the New York Times — but not exactly under ideal circumstances.
"From Hijinks to Handcuffs," reads the headline, "A Provocative Conservative Movement Born on Campus." And the former GOP hero is the star from the first sentence: "James O'Keefe III, the guerrilla videographer, advised conservative students this month that they needed to start taking more risks."
The three-page feature to follow, by two reporters with three more contributing, provides what very well may become the definitive account of O'Keefe's alleged attempted telephone bugging of Senator Mary L. Landrieu of Louisiana.
Mr. O'Keefe said Friday that the four men had been trying to determine whether Ms. Landrieu was avoiding constituent complaints about the Senate health care bill after her phone system was jammed in December. (Her office said no calls had been intentionally avoided.) On reflection, he said in a statement, "I could have used a different approach to this investigation."
And yet the Times won't let this quote sit, instead noting that this approach — "a kind of gonzo journalism or a conservative version of 'Candid Camera'" — was O'Keefe's M.O., as well as the tactics of many young conservatives nationwide hoping for exposure. O'Keefe is hailed as a "cult hero" for his zany activist events, but the Times notes that he is merely the public face for fed-up conservatives who utilize "political pranks and embarrassing recordings to upend what they view as overwhelming liberal biases on college campuses and in the culture at large."
The in-depth article may be O'Keefe's move to the mainstream — impossibly high visibility bestowed on a man clearly craving the spotlight — but maybe, if it were up to him, he would've picked a better headshot. Here's an image of Sunday's front page, via frontpages: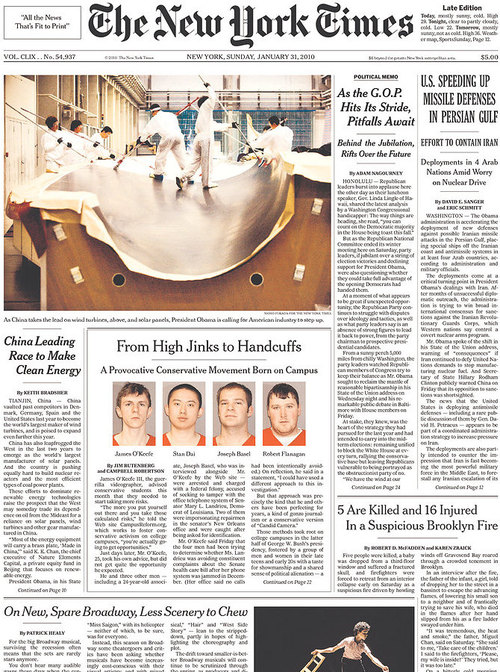 Read the entire fascinating piece by clicking the link below:
High Jinks to Handcuffs for Landrieu Provocateur [New York Times]
Have a tip we should know? tips@mediaite.com