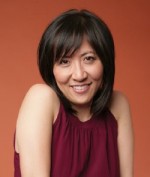 The publishing world was abuzz with whispers about whether or not Janice Min would soon be leaving the top spot of the wildly popular US Weekly magazine. Rumors were dismissed as a tactic for renegotiating her contract, which was set to expire in two weeks. Min's last contract was signed after wild speculation that she would be stepping down. If it worked before, why not try again?
Well it appears that no price was high enough for Min to continue closing the most labor-intensive weekly magazine while reporting to Jann Wenner. Min is resigning and here is her letter to her staff in full:
Dear Us Staff,

After six years as the editor of Us Weekly, I am leaving. In short, I decided it was time to try something else in my life, do a little Gosselin detox and occasionally go out on Monday nights. There are no immediate plans, except to enjoy the month of August, take some tennis lessons, and maybe finally edit my wedding album.

With more certainty, I can say that it has been an immense privilege working with every last one of you here. What we've done with this magazine is unprecedented — you have helped make Us Weekly into one of the greatest success stories in publishing history. Back in 2003, the year many of you started with me,the magazine's rate base was 1 million; now it is nearly double that at 1.9 million; we didn't have a website until recently, and now it's one of the biggest entertainment websites with more than 6 million unique visitors a month (up 328 percent in just one year!). Along the way the magazine has received countless accolades – among them Ad Age's Magazine of the Year and Top Performer of the Decade by Cappell's Circulation Report.

Most significantly, you've made Us Weekly into a phenomenal buzz machine, synonymous with all things pop culture and celebrity. In Chasing Cool, author Gene Pressman of Barneys devotes a section lauding Us Weekly. He calls our magazine "the iPod of its industry," adding, "like crack on newsprint, it made an entirely dormant segment into a monster loyal
audience." Indeed, it's always been one of the most gratifying things about working here: to toil for a magazine not in vain, but for one that 13 million people actually read every week.

Last year, the LA Times said, "It's Us Weekly's world, we just live in it." And now I will be just a spectator looking in. But I speak from the heart when I say thank you for all you've done: the endless hours, never saying no to any request, and for being all around fun, kind and generous people with whom to spend my days and nights. I've never worked with such a fiercely talented, dedicated, collegial and quality group of people. You made being here pure joy and sorely will be missed.

Now, please join me in congratulating executive editor Mike Steele in his promotion to interim editor in chief. Mike will be returning early from his vacation on Wednesday to begin work.

As for me, my last day will be some time next week  – and hopefully we will have some kind of celebration (that doesn't involve Sterno!).

All best,
Janice
The top spot of US Weekly may be a coveted job, but it is also incredibly demanding. One magazine insider believes that closing that magazine each week might be the most intense editorial and production process in publishing right now (blame it on the increased page count).
Additionally, reporting to the notoriously volatile Wenner is no walk in the park either. Wenner is known for being tough and for relentlessly micromanaging his editors from the helm of Wenner Media, which also publishes Men's Journal in additon to Rolling Stone and Us Weekly. So there are plenty of good reasons for Min to step down, but still no word on what's next for her.
Her predecessor at US Weekly, Bonnie Fuller, left for Star Magazine and $2 MM in 2003. After lasting in that spot for four years, Fuller stayed out of the spotlight until only recently resurfacing to head up vertical niche website Hollywood Life. Is it plausible that Ms. Min might join Fuller and Nikki Finke in the Mail.com fold? Never say never, though she seems to be setting her sights higher.
The staff at US Weekly was largely kept in the dark about Min's decision. When asked this afternoon about the rumors that Min was already out at US Weekly, a senior editor simply looked down the hall and said "Nope — she's currently working on the cover." When pushed on how this would unfold the individual replied "Janice is a grown-up and she knows what she's doing. She's just renegotiating."
Indeed she appears to have out-grown US Weekly, but one can only imagine where she'll crop up next.
Have a tip we should know? tips@mediaite.com