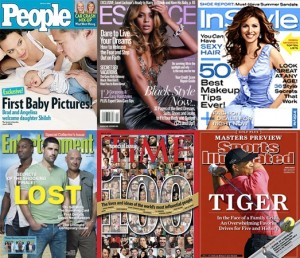 There are many unanswered questions circulating about the fate of Time Inc., the magazine division of Time Warner, home to titles like Time and People. But AOL blog DailyFinance is reporting that at The Atlantic Monthly's "First Draft of History" conference, Time Warner CEO Jeffrey Bewkes had some definitive answers: "Time Inc. is not for sale," he said. "People made these rumors because they want a lot of activity."
"[T]he readership is solid, the readership is holding up, the readers are happy, the titles are thriving," he continued, saying that he believes Time Warner will still own magazines five years down the line. He also took the opportunity to deny that Time Warner had any interest in buying NBC Universal. But is the company's CEO really the most reliable source when it comes to potential business dealings? He's trying to run a business after all.
It seems counterintuitive, but it's important to recognize the context of Bewkes' statements when it comes to Time Inc. gossip, considering he has the most to gain (or lose!) when it comes time for negotiations. Anything he says or does has the potential to affect a sale price. It's also worth remembering the old adage that says everything is for sale — for the right price. The struggling magazine division of a huge conglomerate is no exception and if Time Warner were shopping it, they would want to do so in private and on their terms, not with the media as a middleman.
Then, there's the source reporting the CEO's quotes to consider. The article, entitled "Time Warner CEO: We'll still own Time Inc. in five years" by Jeff Bercovici, was posted at the DailyFinance blog, part of the AOL network owned by none other than Time Warner. The writer discloses the connection briefly but comments that Time Warner will not own AOL "for much longer." Still, when it comes to business journalism and the sensitive large-scale dealings being covered, readers would do best to keep a skeptical eye and writers should stay candid about their connections as they set the tone for the public conversation. You never know how it could affect the bottom line.
Have a tip we should know? tips@mediaite.com