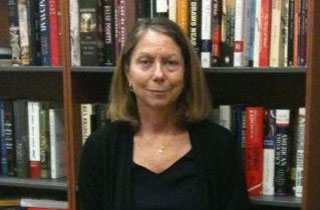 The New York Times announced today that Jill Abramson, who served as the paper's executive editor for nearly three years, was "unexpectedly" stepping down from her position.
"I've loved my run at The Times," said Abramson, the first woman to hold the position, in a statement. "I got to work with the best journalists in the world doing so much stand-up journalism."

The announcement was made earlier to the paper's senior editors, and Arthur Sulzberger, Jr., the paper's publisher and chairman of The New York Times Company, is currently informing the full newsroom of Abramson's departure. She will be replaced by current managing editor Dean Baquet.
At POLITICO, Dylan Byers speculated that she may have left some bad blood in her wake:
Her accomplishments aside, Abramson's tenure was marred by disagreements with Times CEO Mark Thompson, who took an unprecedently hands-on approach to managing the paper's editorial resources. She also suffered from perceptions among staff that she was condescending and combative, though such criticisms were widely criticized as sexist.
The Times did not give an immediate reason for her departure.
UPDATE — 2:55 p.m. EST: Okay, here's a reason:
Jill's departure was forced by Arthur Sulzberger, who called it "a management issue in the newsroom.," he told newsroom.

— Jeff Zeleny (@jeffzeleny) May 14, 2014
UPDATE — 3:15 p.m. EST: Via Greg Mitchell, a copy of Sulzberger's memo to the NYT staff:
Dear Colleagues,

I am writing to announce a leadership change in the newsroom. Effective today, Dean Baquet will become our new executive editor, succeeding Jill Abramson.

This appointment comes at a time when the newsroom is about to embark on a significant effort to transition more fully to a digital-first reality and where, across the organization, we are all learning to adapt to the rapid pace of change in our business.

We owe Jill an enormous debt of gratitude for positioning the newsroom to succeed on both of these critical counts and of course, for preserving and extending the level of our journalistic excellence and innovation. She's laid a great foundation on which I fully expect Dean and his colleagues will build.

As those of you who know Dean will understand, he is uniquely suited to this role. He is a proven manager, both here at The Times and elsewhere. He is also a consummate journalist whose reputation as a fierce advocate for his reporters and editors is well-deserved. And importantly, he is an enthusiastic supporter of our push toward further creativity in how we approach the digital expression of our journalism.

I know you will join me, Mark and the rest of the senior leadership team in wishing Jill the best and congratulating Dean on his appointment.

Arthur
[NYT]
[Image via @JillAbramson/Twitter]
—
>> Follow Tina Nguyen (@Tina_Nguyen) on Twitter
Have a tip we should know? tips@mediaite.com