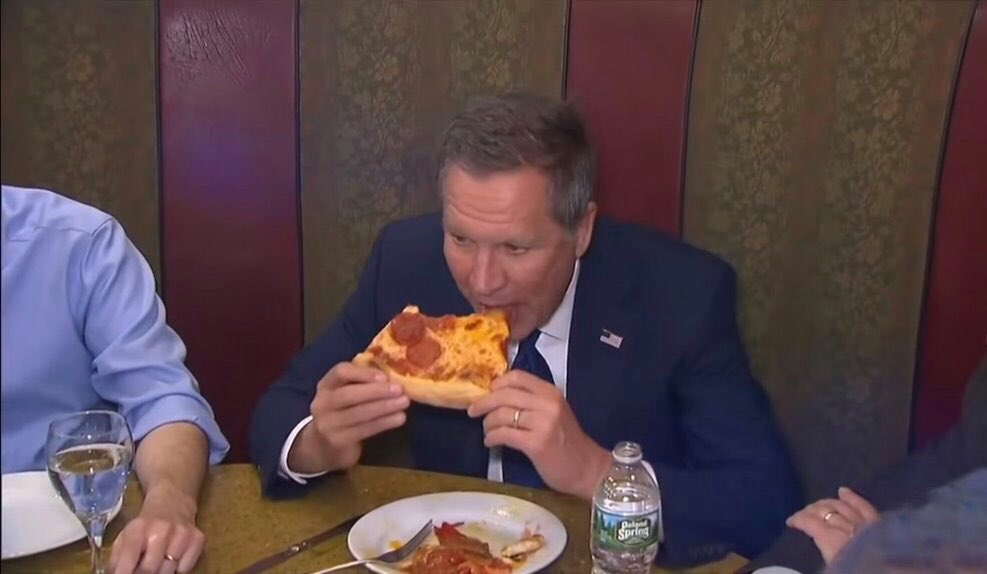 Son of a mailman, lover of a good slice, and governor of Ohio John Kasich is reportedly looking to make another run at the White House.
In his last foray into presidential politics, Kasich was one of the last Republicans standing in the 2016 primary, but he still received just 161 delegate votes — which left him in fourth place behind Marco Rubio, Ted Cruz, and Donald Trump.
According to New York magazine, the GOP governor kept on a few of his 2016 campaign staffers to look into the 2020 race. It is unclear if he will run as a Republican again or switch to independent, as both options are being considered.
"One year after his failed run at president, John Kasich is plotting his path to another, his third, for 2020," reported the outlet.
However, during a Fox News appearance today, Kasich claimed he had no interest in running again. "That's just not where my head is right now," he said.
And yet, in the same interview, Kasich laid out his vision for the Republican Party — which included becoming more environmentally focused, instituting massive education reform, and staying away from the "Make America Great Again" sentiment of the past.
"There has to be a fundamental change, in my opinion, with all of us. I'm willing to be part of that. I want my voice to be out there. I want it very, very much," he added in the Fox News Sunday appearance.
Given his constant criticism of the president and the current state of the party as a whole, a Kasich run head-on against Trump would make sense.
[featured image via screengrab]
Follow Caleb Ecarma on Twitter. 
Have a tip we should know? tips@mediaite.com