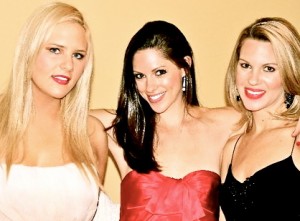 If you're unfamiliar with the @jon2012girls Twitter account, here's your quick catch-up: it's run by former Utah Governor Jon Hunstman's three daughters: Liddy, Abby, and Mary Anne. Before Tuesday night's debate, the account had been somewhat tame and reserved — the typical re-tweets of Huntsman praise, reminders of their dad's CNN appearances, and comments directed at basketball star J.J. Redick. But during Tuesday night's debate, the Huntsman Daughters began to find a voice, asking why nobody had created a song about 9-9-9, and picking on Mitt Romney's knowledge about China (Huntsman, who is fluent in Mandarin, was the U.S. Ambassador to China from 2009 to 2011):
"How does Romney know anything about China? He's only been there once and that was for the Olympics. Panda express doesn't count."
The trio didn't stop there. They later sent tweets to Tagg Romney, Mitt's son, asking him if he wanted to tailgate — Vegas-style — before the next debate. They suggested the Mormon Tabernacle Choir could DJ and the girls even offered to buy the pizza:
"We'll bring the godfathers, you bring the diet coke."
Tagg has, as far as Twitter goes, yet to respond. But he should know this: according to Ashley Parker's profile of the daughters in Sunday's New York Times, even though they were raised Mormon, "they will have a glass of wine from time to time."
With over 3,900 followers, the Hunstman Daughters have a long way to reach last election cycle's outspoken daughter — Meghan McCain, who currently boasts 117,000-plus — but if they keep the feed more in line with last night's pop culture tomfoolery (along with the antagonizing of Tagg Romney, which is actually pretty funny), and do less of the earlier, "Dad's on with Wolf Blitzer in five minutes" style, they may have a chance to challenge McCain's numbers.
Have a tip we should know? tips@mediaite.com