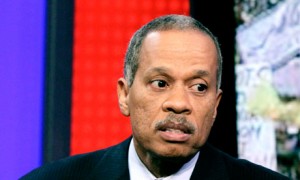 Since his firing from NPR, Juan Williams has been a busy man. Yet between all of his contract signings, media interviews, and speaking engagements, he's found time to reflect on his situation. As the Baltimore Sun reports, Williams says that though he's still "emotionally roiled" by the recent flurry of events, he's grateful for Fox News' open-minded generosity. After all, the network "allows a black guy with a Hispanic name to sit in the big chair." This, Williams says, is beyond NPR's comprehension: "If you ask NPR, they'd say, 'Oh that could never happen at Fox.'" He added: "But it is happening at Fox."
Williams, still sounding bruised from his termination, thinks that NPR "just doesn't understand the Fox audience." He continued to list things that he believes NPR doesn't know: that "a third of the audience for Bill O'Reilly's show is made up of people of color," that Fox News appreciates a "diversity of opinion," and that the network's management is "more enlightened" than those at other cable news networks. The forthcoming journalist noted that no black men with Hispanic names are hosting shows on CNBC or "CNN in primetime."
But there is one thing that he does want NPR to know: that Juan Williams is doing fine.
The initial concern about things like paying for my son to go college, well, Fox took care of that for me. And I have a job, and in journalism today, that's not a little thing to say.
So maybe, at the end of the day, Williams should be thanking Vivian Schiller for letting him go from the NPR ranks? Somehow, we aren't holding our breath for any gratitude.
Have a tip we should know? tips@mediaite.com