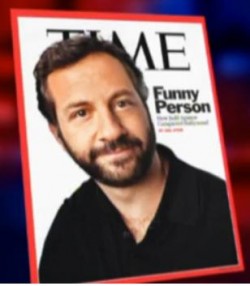 Last night on the Daily Show, Funny People director Judd Apatow revealed that he'd been thisclose to making the cover of Time, but got knocked off at the last minute by Dr. Obama. Ah well, Obama tends to do that sometimes. Luckily, Apatow had a version of "his" cover on hand, with the headline: Funny Person. Personally, I find this cover much more appealing than stern-looking Dr. Obama, but that's just me. I wonder if either of the covers cost more than $30.
Apatow takes the cover disappointment in stride — after all, he's already a member of the Time 100 — but he does seem a tad disappointed that Obama stole his big moment. "How much publicity does this guy need?" asked Apatow. "He doesn't have a movie coming out!" Said Stewart: "Can I tell you something? Time magazine is like O magazine — Obama has to be on the cover…I think he's been on about 30 times at this point." Apatow's non-cover is also the subject of a pretty funny video on Time.com, featuring Apatow and interviewer (and fellow funny-person) Joel Stein.
Other highlights from the interview: Apatow volunteering that he'd masturbated to Stewart's interview with Bill Kristol earlier this week (of all the things on cable at 11 p.m…) and a funny exchange about "passing" (Apatow: "Apparently there are some people who have Jewish names and they change them so they don't sound Jewish!). Worth watching, which we've conveniently arranged for you to do below:
As for Apatow, he's a pretty charming mofo, as Natasha Vargas-Cooper points out on Defamer, noting that "Judd has been everywhere" (he's on Charlie Rose tonight with Adam Sandler, too). We liked this, pulled by Cooper from Apatow's MTV guest blog:
How many times should I see "Funny People"?

Three. Once for the laughs. The second time to notice the details you missed when you laughed. And the third time just to make sure we beat "Transformers" at the box office. We must not let robots rule the world.
In descending order of sexiness: Funny people, robots, Bill Kristol.
Have a tip we should know? tips@mediaite.com