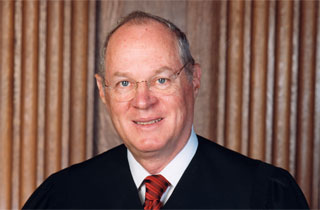 Yesterday, Supreme Court Justice Anthony Kennedy stunned America when he ordered a halt on Nevada's same-sex marriages, less than a day after the Court voted to overturn a ban on gay marriages in that state. Turns out that it was a total accident. Yes, a big ol' "oops, my bad" incident.
According to SCOTUSBlog, what happened was the following: The Ninth Circuit recently heard challenges to same-sex marriage bans in Idaho and Nevada, who, for the purposes of convenience, had combined both of their challenges into a single case. In two different rulings, the federal appellate court struck down both of these states' bans, allowing same-sex marriage in Idaho and Nevada, and issued a mandate on the ruling to immediately enforce the new law. In other words, the moment that the Ninth Circuit struck down the ban, gay and lesbian couples could get married immediately.
This did not make Idaho happy, so they filed a request to Justice Kennedy asking him to put a stop on same-sex marriage in Idaho, so that state officials could review their case before the Ninth Circuit. Kennedy allowed it, but in a total brain fart moment, issued an order that put a stop on weddings in both Idaho and Nevada, even though nobody in Nevada had asked for a review, either.
Thankfully, same-sex marriages can still occur in Las Vegas for the time being, but unfortunately, nobody knows what the eff is happening anymore. As a result, the Ninth Circuit has recalled its order implementing same-sex marriage in Idaho and are asking for briefs as to whether they need to do the same in Nevada.
Good job, Kennedy. Look how much confusion your typo has caused.
[h/t AP]
[Image via Supreme Court of the United States]
—
>> Follow Tina Nguyen (@Tina_Nguyen) on Twitter
Have a tip we should know? tips@mediaite.com