Kathleen Parker's Frilly, Giggly, Blushy, Girly President (and Stupid, Sexist, Tired, Eye-Roll of a Column)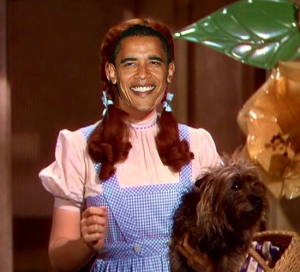 I know Glynnis already wrote about it, but I'm so irritated by Kathleen Parker's column cocking her pretty little head and wondering if Obama's girlishness was making him an awful, terrible president that I have to add my two cents. [PAUSE TO BONK HEAD AGAINST WALL.] Glynnis wrote, "MoDo called, she wants her 2008 column back" –  ha, well played. Me, I just can't believe ANY of these silly, sexists tropes are STILL getting into print from marquee columnists — marquee columnists who just scored primetime shows on CNN no less!
Two years ago – June 2008 – the press was still grappling with how Hillary Clinton had been portrayed in the press. Sarah Palin was still two months away, but mainstream figures were only just admitting that there *may* have been some sexism in the coverage of the first female contender for a presidential nomination. It took Katie Couric saying so in June 2008 to shake up the media enough to wonder, gee, are those dames nattering like a first wife outside probate court actually on to something? The case didn't crack like a nut between the steel-plated thighs of a Hillary Nutcracker, but still – by now it's pretty well accepted that those of us whining like so many nagging housewives were documenting something real. And if you don't agree, you can go iron my shirt.
Okay! Now I'm ready to attack Parker's stupid time-waster of a piece, in all-caps, because that's manlier, like shouting n' smacking stuff. SEE? POW! SLAM! BANG! I'm going to fisk it, because if I include a "Girl-on-Girl Fisking" tag it'll get more traffic. Just kidding. But that would be about as naked a traffic play as this title:
Obama: Our First Female President
OH STOP IT PEOPLE, COLUMNISTS AREN'T EXPECTED TO BE ANATOMICALLY CORRECT. IT'S A METAPHOR. NOT AT ALL MEANT TO BE – WHAT'S THAT WORD? – AH, YES: EMASCULATING.
If Bill Clinton was our first black president, as Toni Morrison once proclaimed, then Barack Obama may be our first woman president.
MIND-BOGGLINGLY FACILE. FEEL FREE TO TOTALLY IGNORE THE CONTEXT FOR MORRISON'S COMMENTS.  FEEL FREE TO ALSO IGNORE THE FACT THAT OBAMA ACTUALLY REALLY *IS* THE FIRST BLACK PRESIDENT, WHICH ALSO IMPLICATES THE LARGER NATIONAL HISTORICAL CONTEXT IMPLICIT IN MORRISON'S COMMENT. BUT NEVER MIND!
Phew. That was fun. Now, if you'll just keep those hatchets holstered and hear me out.
YEAH, ALL YOU PEOPLE WHO MIGHT HAVE READ THIS AND THOUGHT, 'WHAT APPALLING, TRITE, INSULTING SEXIST GARBAGE,' YOU'RE BEING TOTALLY JUDGMENTAL AND UNFAIR. I'M A SMART COLUMNIST. TRUST ME.
No, I'm not calling Obama a girlie president.
I AM NOW GOING TO GO ON AND PAINT HIM AS A GIRLIE PRESIDENT.
But . . . he may be suffering a rhetorical-testosterone deficit when it comes to dealing with crises, with which he has been richly endowed.
CLEVER! HE CAN'T GET IT UP…HIS MANLY VOICE, THAT IS! BUSH SURE HANDED OBAMA ONE HECK OF A PACKAGE! IS THAT THE PRESIDENCY IN OBAMA'S POCKET OR IS HE JUST GLAD TO SEE US?
It isn't that he isn't "cowboy" enough, as others have suggested. Aren't we done with that?
YEAH! SO DONE WITH THAT! ONLY 638 WORDS TO GO.
It is that his approach is feminine in a normative sense. That is, we perceive and appraise him according to cultural expectations, and he's not exactly causing anxiety in Alpha-maledom.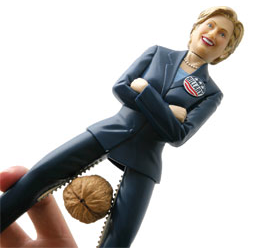 PLEASE NOTE THAT OBAMA HAS COME BY THIS WAVE OF CRITICISM FOR HIS FAILURE TO ADDRESS AND OVERCOME THE CATASTROPHE IN THE GULF. SO HIS "FEMININITY" IS BEING RAISED NOT FOR, SAY, FINDING CONSENSUS ON THE BANK BILL LAST WEEK, BUT FOR FALLING WAY SHORT. PUT DIFFERENTLY, HE IS BEING CHASTISED FOR HIS FAILURE TO BEAT A GIANT SPURTING GUSHER INTO SUBMISSION. CALL ME CRAZY, BUT I THINK MANY AN ALPHA MALE COULD RELATE TO THAT.
We've come a long way gender-wise.
YES, THIS COLUMN PROVIDES ME WITH SUCH COMFORT.
Not so long ago, women would be censured for speaking or writing in public. But cultural expectations are stickier and sludgier than oil. Our enlightened human selves may want to eliminate gender norms, but our lizard brains have a different agenda.
CAN WE JUST STOP HERE TO NOTE THAT, RATHER THAN FIND SUPPORTING EXAMPLES OR INFORMATION FOR HER STATEMENT THAT OBAMA COMES ACROSS AS FEMININE ACCORDING TO OUR CULTURAL EXPECTATIONS, PARKER INSTEAD JUST SPOUTED MORE GENERALIZATIONS WITHOUT OFFERING ANY SPECIFICS?
Women, inarguably, still are punished for failing to adhere to gender norms by acting "too masculine" or "not feminine enough." In her fascinating study about "Hating Hillary," Karlyn Kohrs Campbell details the ways our former first lady was chastised for the sin of talking like a lawyer and, by extension, "like a man."
DONE! WITH A CLEVER REFERNCE TO SOMETHING FROM 1998, PARKER HAS DISPENSED WITH HER EXAMINATION OF THIS SUBJECT. BECAUSE WHY WOULD WE BOTHER TRYING TO EXAMINE HOW THINGS HAVE CHANGED OR WHY THIS REMAINS RELEVANT AND COMPLEX IN THIS AGE OF MADAM SECRETARY OF STATE AND MADAM SPEAKER AND DURING THE CONFIRMATION HEARING OF MADAM SUPREME COURT JUSTICE? NO COMPLEX DISCUSSIONS TO BE HAD THERE!
Could it be that Obama is suffering from the inverse?
COULD IT BE? LET'S SEE! AN IRON-CLAD FACT-BASED DENSELY-SUPPORTED CASE IS ABOUT TO BE MADE, JUST WATCH!
When Morrison wrote in the New Yorker about Bill Clinton's "blackness," she cited the characteristics he shared with the African American community: "Clinton displays almost every trope of blackness: single-parent household, born poor, working-class, saxophone-playing, McDonald's-and-junk-food-loving boy from Arkansas."

If we accept that premise, even if unseriously proffered, then we could say that Obama displays many tropes of femaleness.
AND NOW SHE WILL GO ON TO LIST THEM AND THEN METICULOUSLY BACK UP THOSE EXAMPLES WITH TRENCHANT ANALYSIS. HA HA, NO SHE DOESN'T.
I say this in the nicest possible way.
THE NICEST POSSIBLE WAY OF COMPARING YOU TO A WOMAN BECAUSE OF YOUR TOTAL IMPOTENCE.
I don't think that doing things a woman's way is evidence of deficiency but, rather, suggests an evolutionary achievement.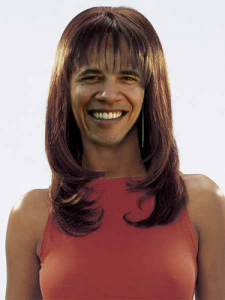 SHE GOES ON TO GIVE SEVERAL REASONS WHY AND METICULOUSLY BACK UP THOSE EXAMPLES WITH TRENCHANT ANALYSIS. HA HA, NO SHE DOESN'T.
Nevertheless, we still do have certain cultural expectations, especially related to leadership.
LIZARD BRAINS! GUESS WHERE ELIOT SPITZER'S IS?
When we ask questions about a politician's beliefs, family or hobbies, we're looking for familiarity, what we can cite as "normal" and therefore reassuring.
SHE GOES ON TO CITE SPECIFICS SUPPORTING THAT ASSERTION. HA HA, NO SHE DOESN'T.
Generally speaking, men and women communicate differently. Women tend to be coalition builders rather than mavericks (with the occasional rogue exception). While men seek ways to measure themselves against others, for reasons requiring no elaboration, women form circles and talk it out.
INSTEAD OF LOOKING AT THIS CRAPPY COLUMN BY KATHLEEN PARKER AND THINKING, "CHRIST, WHY DOESN'T CNN HIRE ME, I WRITE CIRCLES AROUND THIS GARBAGE?" I AM GOING TO FORM A SHARING CIRCLE WITH MY WOMENFOLK AND GENTLY TALK IT OUT.
Obama is a chatterbox who makes Alan Alda look like Genghis Khan.
"CHATTERBOX"…WAS THAT A MOVIE? RELATED: THESE JUXTAPOSITIONS MAKE NO SENSE.
The BP oil crisis has offered a textbook case of how Obama's rhetorical style has impeded his effectiveness. The president may not have had the ability to "plug the damn hole," as he put it in one of his manlier outbursts.
OH, NOW I REMEMBER WHAT CHATTERBOX WAS ABOUT!
No one expected him to don his wetsuit and dive into the gulf, but he did have the authority to intervene immediately and he didn't. Instead, he deferred to BP, weighing, considering, even delivering jokes to the White House Correspondents' Association dinner when he should have been on Air Force One to the Louisiana coast.
HE JOKES JUST LIKE A WOMAN. HE WAITS JUST LIKE A WOMAN. HE TALKS JUST LIKE A WOMAN. BUT HE FAILS LIKE A LITTLE GIRL.
His lack of immediate, commanding action was perceived as a lack of leadership because, well, it was.
MEN = IMMEDIATE, COMMANDING ACTION. WOMEN = NERVOUSLY FRETTING FOR WEEKS AND HOPING SEAN HANNITY DOESN'T NOTICE.
When he finally addressed the nation on day 56 (!) of the crisis, Obama's speech featured 13 percent passive-voice constructions, the highest level measured in any major presidential address this century, according to the Global Language Monitor, which tracks and analyzes language.
YEP, THE SPEECH SUCKED. AND THAT'S AN INTERESTING STAT – THE FIRST BIT OF SUPPORTING INFORMATION SHE'S PROVIDED. EXCEPT ALL IT SUPPORTS IS THAT OBAMA'S SPEECH FEATURED 13 PERCENT PASSIVE-VOICE CONSTRUCTIONS. NO DATA IS OFFERED ABOUT HOW WOMEN SPEAK OR EVEN AN EXPERT OPINION THAT OBAMA'S SPEECH WAS "WOMANISH." DOES THE GLOBAL LANGUAGE MONITOR TRACK EMPTY PLATITUDES IN WAPO COLUMNS?
Granted, the century is young — and it shouldn't surprise anyone that Obama's rhetoric would simmer next to George W. Bush's boil. But passivity in a leader is not a reassuring posture.
FOR THE LOVE OF GOD, PLEASE SAY SOMETHING USEFUL! CITE AN EXAMPLE! RIGHT NOW ALL I CAN THINK OF IS PUTTING FOOD ON YOUR FAMILIES, OBGYNS PRACTICING THEIR LOVE WITH WOMEN, AND THAT MISSION ACCOMPLISHED CLOSE-UP. YOU KNOW THE ONE. OW MY EYES.
Campbell's research, in which she affirms that men can assume feminine communication styles successfully (Ronald Reagan and Bill Clinton), suggests holes in my own theory.
HEAD BONK HEAD BONK HEAD BONK
She insists that men are safe assuming female styles as long as they meet rhetorical norms for effective advocacy — clarity and cogency of argument, appropriate and compelling evidence, and preempting opposing positions. I'm not so sure. The masculine-coded context of the Oval Office poses special challenges, further exacerbated by a crisis that demands decisive action. It would appear that Obama tests Campbell's argument that "nothing prevents" men from appropriating women's style without negative consequences.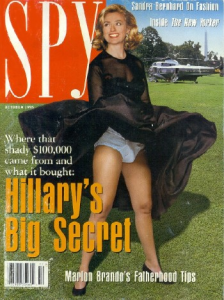 AGAIN, SWEEPING STATEMENTS WITH NOTHING TO BACK THEM UP. SWEEPING GENDERED STATEMENTS REINFORCING THE SEXIST TROPE THAT THE ADJECTIVE "PRESIDENTIAL" IS THE DOMAIN EXCLUSIVELY OF MEN. JUST LIKE ACTION = MAN AND DITHERING = WOMAN. ALSO, "MASCULINE-CODED CONTEXT OF THE OVAL OFFICE?" IS IT, LIKE, NAD SHAPED?
Indeed, negative reaction to Obama's speech suggests the opposite. Obama may prove to be our first male president who pays a political price for acting too much like a woman.
WHY CAN'T COLUMNISTS PAY AN EDITORIAL PRICE FOR PUBLISHING COLUMNS THAT MAKE NO SENSE, ARE UNSUPPORTED BY SPECIFIC FACTS AND SEEM TO HAVE BEEN PHONED IN FROM THE 1950s?  THAT WOULD BE DECISIVE ACTION.
And, perhaps, next time will be a real woman's turn.
REMEMBER WHEN THAT GUY WHO WROTE "UNDER THE CLITORAL HOOD: HOW TO CRANK HER ENGINE WITH CASH, BOOZE OR JUMPER CABLES" SAID ON FOX NEWS: "WHEN BARACK OBAMA SPEAKS, MEN HEAR 'TAKE OFF FOR THE FUTURE,' AND WHEN HILLARY CLINTON SPEAKS MEN HEAR 'TAKE OUT THE GARBAGE?' I DO. MAYBE NEXT TIME, PARKER WILL, TOO.
Related in Coverage From Two Years Ago:
Marie Coco: Misogyny I Won't Miss [WaPo]
Libby Copeland: Belittled Woman [WaPo]
Rebecca Traister: "No one is making nutcracker icons of McCain or Obama" [Salon]
Hillary Hate: Making Sexism Acceptable [ETP]
Media Charged With Sexism in Clinton Coverage [NYT]
In Which We Disagree With Gail Collins, For Maybe The First Time [ETP]
Thought Process Flowchart: Maureen Dowd [23/6]
Hillary Sexism Watch: Part Eighty-Three [Shakespeare's Sister]
Hating Hillary [New Statesman]
And What's Worse Than A Nagging Housewife? [ETP]
Katie Couric Is Rubber And Keith Olbermann Is Glue [ETP]
Report: Maureen Dowd repeatedly uses gender to mock Democrats [Media Matters]
Image of Obama-as-Dorothy via one of my posts on HuffPo, which I can recall photoshopping gleefully, if not expertly. I didn't know which post it was on, though, so I had to google many variations on "Hillary Clinton Sexism Rachel Sklar Huffington Post" to find it. Wow, I wrote a lot about that two years ago. I'm so glad things have changed!
Otherwise: Image of Hillary nutcracker via the New Statesman; image of Obama as a lady from the "Presidents In Drag" photoset from Annette Brunette; image of Hillary-with-codpiece from Gawker.
Have a tip we should know? tips@mediaite.com