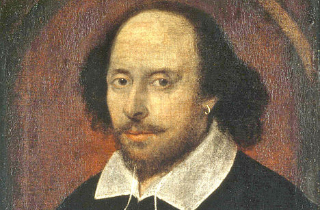 I'll break my staff.
Bury it certain fathoms in the earth,
And deeper than did ever plummet sound
I'll drown my book.
Prospero in Act V, Scene 1, lines 55-59 of The Tempest
Something is rotten in the state of Mark. And I'm putting my metric foot down.
Theater director Mark Powell has become the bear pursuing William Shakespeare toward an untimely English class exit, and his argument—and arrogance—is meritless. In a March 17th article in The Guardian entitled "Kill Bill: why we must take Shakespeare out of the classroom," Powell relishes the role of Brutus: "(Shakespeare's) words were chosen to be spoken or heard, not to be read and deadened behind a desk—they wither when performance is removed."
Powell expounds upon the playhouse Folio foiling, claiming the Bard's plays "strike modern teenagers with fear," and "over the past few years, I've welcomed fewer and fewer school groups (to his playhouse). The planning and paperwork involved is prohibitive." Sigh, theater people are so dramatic.
It also sounds like Powell had a crappy English teacher.
But let's pretend, for a moment, the associate director of Salisbury Playhouse is aloof to the insightful 2006 study from his (and Bill's) home country. Reading Shakespeare sparks heightened brain activity, the study shows, when a student encounters the poet's irregular sentence structure and unrivaled rhyme schemes. In other words, Prospero on the page will make neurons fire like magic.
Let's also, for a moment, imagine Powell has ignored the words, words, words themselves. Shakespeare—Online estimates the playwright's vocabulary at over 24,000 words. Comparatively, "the total vocabulary of Milton's poetical remains is more nearly seventeen than eighteen thousand (17,377); and that of Homer… is scarcely nine thousand. Five thousand eight hundred and sixty words exhaust the vocabulary of Dante's Divina Comedia," writes James Davie Butler in The Once Used Words in Shakespeare. I'd be willing to bet that, in his youth, the Bard's lexicon flourished behind a "deadened desk."
With all that said, "(plays) are meant to be explored on their feet," Powell writes. So move the desks and play the play! Bring the theater to the classroom, not the other way around. Arrange students in small groups to learn by heart and perform scenes. Collaborate with the school's drama department. Add contemporary retellings of Shakespeare to the syllabus to compare alongside Shakespeare's works.
Just don't strip students of plays that masterfully track the struggle of youths like Hamlet, Romeo, Desdemona, and Juliet with weighty themes of love, jealousy, power, and violence. It's selfish, misguided, and antithetical to what Shakespeare must mean in a contemporary world that traffics in Iagos and Richard III's alike.
Hamlet's father bellowed, "Mark me." This article just reeks of "me, Mark." Keep Will Shakespeare on the page and in the classroom.
— —
>> Clark Young is, above all things, a Mainer and Red Sox fan. Follow him on Twitter here.
Have a tip we should know? tips@mediaite.com