Largest Palestinian Newspaper at Risk of Being Banned After Interviewing Israeli Politician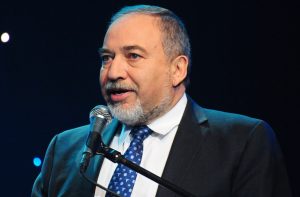 The largest Palestinian newspaper is at risk of being banned after it published an interview with an Israeli politician last week.
Al-Quds is the largest newspaper servicing the West Bank and the Gaza Strip, but it could be banned from the latter after an interview with Israeli Defense Minister Avigdor Lieberman. Lieberman, a notorious hardliner, was hawkish in his interview, promising that the Jewish state's next war with Hamas would be the "last… because we will completely destroy them."
The content and subject of the interview was controversial enough, but as a rule Palestinian papers do not interview any Israelis at all. The official stance of The Palestinian Journalists Syndicate is that interviewing Israelis is an act of "normalization" that all Palestinians have a responsibility to reject.
The Al-Quds journalist in question defends the interview. "Our idea was to show the Palestinian people how Lieberman thinks. People want to understand the Israeli right wing because it is a group that is growing in Israel and Lieberman could become the next Israeli prime minister," Mohammed Abu Khudeir told The Washington Post.
In response, Gaza press office chief Salama Marouf said that Hamas was considering banning the newspaper. "All kinds of normalization with Israel is considered criminal," he said. "What the paper did is inexcusable on a professional level and criminal on a national level, especially when it comes to the extremist Lieberman, who is provocative and ignores the rights of Palestinian people."
In the West Bank, the Palestinian Authority leadership also criticized the interview but did not offer any overt threats to ban Al-Quds.
[Image via Shutterstock]
—
>>Follow Alex Griswold (@HashtagGriswold) on Twitter
Have a tip we should know? tips@mediaite.com