Late Show Comedy Booker Accuses NY Times Of Taking Seemingly Sexist Comments Out Of Context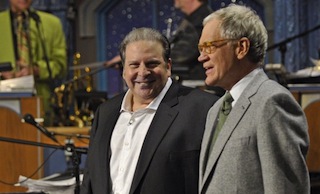 There is perhaps no other subject more sensitive right now than the place of women in comedy. And it's not like comediennes don't have good reason to be touchy. We are, after all, only a few months past a news cycle in which people were writing serious articles asking if a new movie could finally prove that women were funny…in the year 2011! Think about that.
So, it's not surprising that a small firestorm has brewed over a New York Times profile of Eddie Brill, the veteran stand up and comedy booker for The Late Show with David Letterman. In it, Brill claims that female comics aren't "authentic." Since the piece's publication, it has inspired a ton of debate, including an argument between the reporter, Jason Zinoman, and Brill himself, with Brill saying it seemed like Zimoman "had it in for" him.
Brill's certainly right that the profile isn't an exactly flattering depiction. At it's heart, it's one of those typical "It's impossible to get booked on a network late night show" pieces, but this one in particular seems to make Brill out to be a dinosaur, featuring negative comments from up and coming stars like Anthony Jeselnik and Amy Schumer. However, what really got people's dander up is a section in which Brill seems to hold onto a world view that was already dated in the days of Johnny Carson and Joan Rivers:
"Among some comics 'Late Show' has a reputation for favoring a certain profile. 'The types they seem to like are middle-aged white men from the Midwest,' the comic Amy Schumer said. Only one woman (Karen Rontowski) was booked in 2011. 'There are a lot less female comics who are authentic,' Mr. Brill said. 'I see a lot of female comics who to please an audience will act like men.'

Jessica Kirson, a comic who has performed on 'The Tonight Show' several times but not on 'Late Show,' responded: 'What does that mean?' She added, 'I like Eddie but the only way to make it as a female comic is to have strength and be assertive and confident.'"
It wasn't long before the Internet filled with scathing indictments of Brill, including one for Mirth Magazine which claims Brill's irrelevance ("We all well know that the days of comedy kingmaker Johnny Carson granting a comedian a career with one simple motion toward his couch are a thing of the past.") and argues that his "authenticity" critique is merely code "code for 'women aren't funny.'"
Brill himself took to the comments section to defend himself and placed most of the blame on Zinoman.
Have a tip we should know? [email protected]