Lauren Ashburn: 'Hair Challenged' Donald Trump Feuds With USA Today Founder Al Neuharth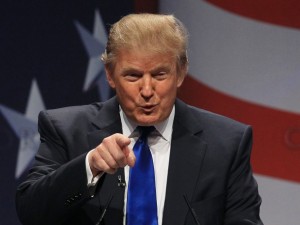 As we've noted here before, reality TV star and Mitt Romney surrogate Donald Trump never met a feud he didn't like, and it looks like a couple of new ones might be brewing. Daily-Download.com's Lauren Ashburn notes a flare-up between USA Today founder Al Neuharth, who recently penned a column dubbing the Donald a "clown" who "hurts Romney," but in reporting the feud, did Ashburn put herself in the line of Trump fire?
Trump is one of those media figures who is prone to escalate any criticism into a feud, such as his denunciation of George Will as the "dumbest(and most overrated) political commentator of all time," and while such feud-mongers are often polarizing egomaniacs, let's be honest, they're also fun to watch. Let's see how this one develops. From Daily-Download.com:
It seems a nasty battle is brewing between USA Today's founder, Al Neuharth, and The Donald.

"Clown," says Neuharth.  "Angry," pathetic man, retorts Trump.  Them there's fighting words.  But it's a typical "he said, he said" political boxing match – especially for the hair-challenged Donald.
Trump was responding to this Neuharth USA Today column, which is surprising on several levels, not the least of which is that Donald Trump (or anyone else) is reading a newspaper. As it turns out, USA Today is one of the country's most widely-read newspapers, especially at your finer motor hotels and such. It's like the Gideon Bible of newspapers, with color-coding.
In reporting on the Trump-Neuharth feud, however, media analyst Lauren Ashburn may have inadvertently started one of her own by taking a cheap shot at The Donald's physics-defying 'do. As noted in Neuharth's column, however, this might not be such a bad thing for Ashburn's profile, and the height thereof. With that in mind, are you just gonna sit there and take that, Mr. Trump?
Trump's coiffe is a popular object of derision for his detractors, and although I count myself among their number, I'm not down with the constant picking of this low-hanging fruit. Of all the things there are to dislike about Donald Trump, his tenacious grip on those remaining functional follicles rates pretty low on the list, and is actually somewhat admirable. This is a guy who could afford to hire the guys who made that Tupac hologram to follow him around and project a constant shock of natural-looking locks onto his head wherever he goes, if he wanted to, yet he remains dedicated to the art of making the most of what he has. That's not a comb-over, it's a work of comb art.
(h/t Howard Kurtz)
Follow Tommy Christopher (@TommyXtopher) on Twitter.
Have a tip we should know? tips@mediaite.com