Leading LGBT Magazine Argues Peter Thiel Isn't Gay Because He Endorsed Donald Trump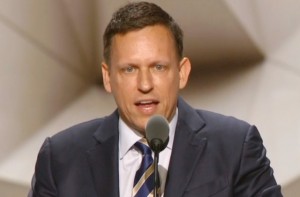 Leading gay magazine The Advocate ran an op-ed arguing that Paypal founder and libertarian Peter Thiel is not actually gay because he endorsed Donald Trump for president.
"Peter Thiel, the Silicon Valley billionaire who made news this summer for endorsing Donald Trump at the Republican convention, is a man who has sex with other men. But is he gay?" opens the editorial, by Connecticut College professor of history Jim Downs.
"Since the Paleolithic Age, people have had sex with people of the same gender. But the notion that this made someone 'homosexual' or 'gay' was a relatively recent phenomenon in human history," Downs argues.
He continues, arguing that to be "gay" means to buy into the subculture that emerged from the Stonewall Riots and the gay rights movement of the 1970's. "By the logic of gay liberation, Thiel is an example of a man who has sex with other men, but not a gay man, because he does not embrace the struggle of people to embrace their distinctive identity…" Downs writes.
Downs takes particular ire at the fact that Thiel spoke at the Republican National Convention. "At the convention in Cleveland in July, Thiel was the first person in the history of the party to declare his homosexuality on stage to an audience of people who have historically opposed same-sex marriage, among other LGBT rights," he writes.
"The gay liberation movement has left us a powerful legacy, and protecting that legacy requires understanding the meaning of the term 'gay' and not using it simply as a synonym for same-sex desire and intimacy," concludes Downs.
[Image via screengrab]
—
>>Follow Alex Griswold (@HashtagGriswold) on Twitter
Have a tip we should know? tips@mediaite.com