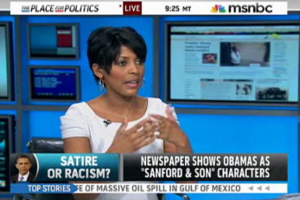 With the news cycle chock full of life-or-death stories, a local Long Island weekly paper managed to squeeze into today's MSNBC news report. How'd they do it? They compared President Barack Obama and the First Lady to the characters from 1970s sitcom Sanford and Son, prompting criticism that the photo editorial was racist.
The spread in question, published in today's Smithtown Messenger, was a look at before and after pictures of presidential couples as they ascended and descended the nation's top post. As the Obamas are incumbent, there is no "after" picture to assign to them, so the paper thought it would be clever to fill that space with a picture of fictional character Fred Sanford and loving sister-in-law, pictured in a standard boxing stance. There is no comment added to the photo to clarify that it is a joke. The scan, courtesy of NY Mag, below: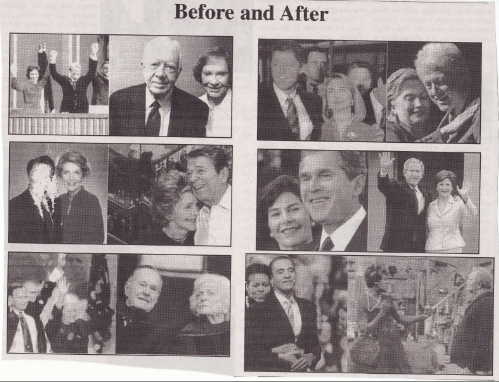 Hazel Dukes, president of the state NAACP conference, described it as "simply shocking and outrageous that such a blatantly racist ad would run in any paper, much less an official paper of Suffolk County… New Yorkers of all races and ethnicity are disgusted by it and reject it." The weekly's publisher has denied any allegations of racism and called it "political satire," and noted: "While we have grave disagreement with the policies of the current Administration, we hold the office of President of the United States in great respect." Because the photo has no comment attached and the "joke" is so murky, it wouldn't have been possible to get that last part without being a regular reader or having them state it.
MSNBC did a "man on the street" poll to see how individuals would react, and it seems like, for the most part, people are just confused, with one interviewee noting that it "just doesn't make sense." Video below:

Have a tip we should know? tips@mediaite.com