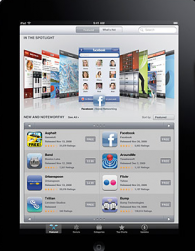 Sometimes you really have to wonder whether the magazine world deserves the fate that is being dealt to them. After a year of plummeting ad sales and deep cutbacks that saw the shuttering of many a beloved title many magazine, aficionados greeted news of the iPad as the savior to their many problems. And perhaps it still might be, though likely not like this.
Turns out the magazine powers that be concluded in their infinite wisdom that the iPad was actually just exactly the same as a real life newsstand…at least where pricing is concerned. MediaWeek is reporting that many magazines are charging single issue prices for iPad magazine app access. Yes, that's right, it will cost you $4.99 to download a single issue of Time on your iPad. People are understandably less than thrilled.
As one customer of Time magazine's app ($4.99 single issue) wrote, "Not to put too fine a point on it, but they're … passing the savings on distribution and raw materials to themselves. I can get 56 issues of the paper version for $20. How am I supposed to feel about this?"
Not the best first impression and needless to say to anyone who has spent any time on the Internet or filling out a magazine subscription form, it sort of defeats the point. Really, one has to wonder what exactly it will take for the print world to get acquainted with the Internet and haul themselves into the 20th Century.
UPDATE: Time tells us that while the TIME iPad app is currently available for $4.99 on the App Store for a single issue. Subscriptions will be available soon at a discount from the newsstand price.
Have a tip we should know? tips@mediaite.com