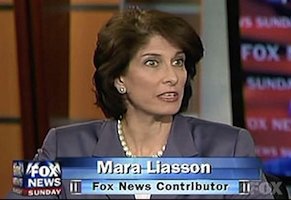 Déjà vu? Mara Liasson, the national political correspondent for NPR, has been pressured by the radio network not to appear on Fox News, Politico reports.
The White House's war against Fox News may not have lasted very long, but it sounds like the tactic of boycotting Fox over its political leanings has survived it.What could have been a quiet internal discussion has spilled over into a colorful, public brawl, with a leak that NPR forced Liasson to monitor Fox for bias for 30 days, News Hounds-style, and an (unnamed) Fox spokesperson hitting back by boasting about the network's ratings in comparison to NPR's.
From Politico:
According to a source, Liasson was summoned in early October by NPR's executive editor for news, Dick Meyer, and the network's supervising senior Washington editor, Ron Elving. The NPR executives said they had concerns that Fox's programming had grown more partisan, and they asked Liasson to spend 30 days watching the network.

At a follow-up meeting last month, Liasson reported that she'd seen no significant change in Fox's programming and planned to continue appearing on the network, the source said…
…A Fox spokesperson declined to comment on specific questions about Liasson. However, the spokesperson, who asked not to be named, said in an email: "With the ratings we have, NPR should be paying us to even be mentioned on our air." (emphases added)
The Politico scoop has to be a mixed bag for Liasson, who declined to be interviewed for the article. On the one hand, if NPR takes action against her, it will be highly scrutinized now. On the other hand, it would appear to an untrained observer that either a Liasson loyalist within NPR or Liasson herself had a hand in Politico getting the embarrassing story, which could put her into further conflict with NPR.
It's not as though they're alienating the mythical hordes of Fox News viewers who would have gone gaga over NPR (and read Politico), but the leak does deal a blow to the non-partisan image that NPR tries to project, however fairly or unfairly.
Have a tip we should know? tips@mediaite.com