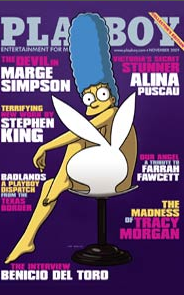 Yes, that is Marge Simpson naked on the cover of the November issue of Playboy, covered by a strategically-placed bunny head. It's how the magazine is honoring the 20th anniversary of The Simpsons.
The special collector's edition — available only on newsstands, sorry, loyal subscribers — will also feature an "interview" inside called "The Devil in Marge Simpson" that will run with three pages of pictures — including the centerfold. My blood runs cold!
Playboy EIC Jimmy Jellinek has reportedly demurred on whether she'll be depicted nude ("It's very, very racy") but I heard on Canadian AM radio that Marge's virtue will be preserved, so there's that.
There's also common sense: There's no way The Simpsons is going to let Playboy display Marge in some tacky peekaboo pose. Ew. They're a brand, for God's sake. No, this is just for buzz, and Marge will be just coquettishly covered enough to make everyone happy.
Marge is the first cartoon character to be featured on the cover (take that, Jessica Rabbit!) and, depending how old she would have been on the premiere 20 years ago, the oldest: If Marge was 35 or older, then she'd beat Terri Moore, reportedly the oldest model featured in Playboy at 55. (Pic is here. NSFW.)
Look for the predictable stories to come about what Homer and Bart et al think. Actually, the only one I'm really interested in hearing from is Lisa, I can just hear her lecturing Marge on allowing herself to be used as an instrument of the patriarchy.
But will it be sexier than Levi Johnston's centrefold? That's the question. No, really, that's the question:
Vote early and often! Or, just once. This is serious.
Related:
Marge Simpson poses for Playboy [Times UK]
Marge Simpson makes cover of Playboy [Reuters]
My Angel Is The Centerfold [J. Geils Band]
Have a tip we should know? tips@mediaite.com