Mayor Mike Bloomberg Asks What Could Have Prevented Arizona Shooting, Talks Gun Control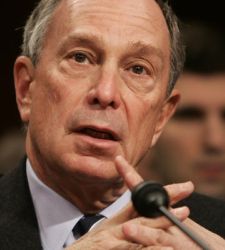 New York City mayor Mike Bloomberg called lawmakers on the Mayors Against Illegal Guns coalition together for a City Hall meeting to discuss the Arizona shooting that left six dead and Congresswoman Gabrielle Giffords recovering from a bullet to the head. Among the issues discussed was gun control, a topic which inspired an impassioned speech from the Mayor on what, exactly, we should be taking away from the weekend's events:
The more we learn the more it becomes clear that this case is fundamentally about a mentally ill drug abuser who had access to guns, and shouldn't have. This isn't an ideological battle. This is about enforcing the law, pure and simple.
Among those in attendance was Congressman Peter King of Long Island, who shared his plan to introduce a bill making it illegal to carry a firearm within 1,000 feet of a federal official.
At the meeting, Bloomberg presented several ideas to combat the buying and selling of illegal firearms, including:
Appointing a permanent head of the Bureau of Alcohol, Tobacco and Firearms,
Lengthening the time former drug users are prohibited from buying guns from one year to five, and
Increasing communication among the various law enforcement agencies
These suggestions come at a time when the nation – and the opinion news that feeds it – is still reeling as it attempts to make sense of what increasingly appears to be a senseless act of violence. Just today, in fact, Joe Zamudio, who was at the Tucson, Arizona mall at which the shooting took place, appeared on MSNBC's The Ed Show to discuss how he saved the lives of would-be victims – while armed with a gun of his own.
Have a tip we should know? tips@mediaite.com