Media Ask: Is Obamacare Rollout President Obama's 'Hurricane Katrina' Moment?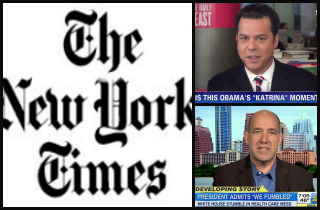 As we noted in our morning reading list today, a New York Times political report drew parallels between President Obama's execution of the Affordable Care Act's rollout and President George W. Bush's handling of Hurricane Katrina's aftermath.
Times political reporter Michael D. Shear wrote that the "disastrous rollout of [Obama's] health care law not only threatens the rest of his agenda but also raises questions about his competence in the same way that the Bush administration's botched response to Hurricane Katrina undermined any semblance of Republican efficiency."
Such an inherently controversial analogy (seeing as Katrina resulted in thousands of lost lives) has become fodder for news media (and Twitter fights). And rightfully so: The concept makes for eye-catching chyrons like CNN's "Is This Obama's 'Katrina' Moment?"
And so in addition to the Times report, CNN and ABC News have both posited the question to their guests.
In the former example, CNN contributor John Avlon outright dismissed the comparison, adding that such sentiment comes from partisan projection. Watch below, via CNN:
And on ABC's Good Morning America, George Stephanopoulos asked former Bush advisor Matthew Dowd:
You served with George W. Bush, everybody knows what happened with Katrina. Once those questions about his competence took hold, his second term never really recovered. Is President Obama in that kind of position right now?
Dowd recoiled a bit at the comparison, suggesting the two scenarios are quite different, but added that this rollout represents a "tipping point" for Obama, one from which, historically, "no presidents, when they get this low, ever recover in the course of their presidency." Watch that below, via ABC:
— —
>> Follow Andrew Kirell (@AndrewKirell) on Twitter
Have a tip we should know? [email protected]