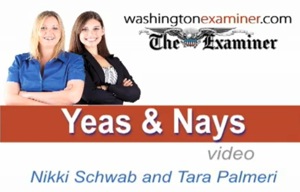 The saucy gossip girls at the Washington Examiner's Yeas and Nays column did a little Grindr experiment and found the Pentagon and the White House were full of guys looking to "meet" other guys. Grindr, for the uninitiated, is a GPS-based application for the iPhone and Blackberry that allows gay guys to find other gay guys in the local area just by starting up the app and letting the GPS narrow down the possibilities.
The Examiner's Nikki Schwab and Tara Palmeri fired-up Grindr at locations across Washington–the Capitol, the White House lawn, the White House press room, and the Pentagon–to see how many guys they could find looking for a little, well, company. Turns out D.C. ranks 14th globally in the number of Grindr users.
There were pages and pages of men on Capitol Hill. Just outside the House gallery, we were 393 feet away from an attractive 27-year-old Georgetown grad. On the White House lawn, only 17 gay men were within our reach, but once inside the press briefing room, the application identified many more options.

On the Pentagon grounds, the device offered several pages of available gay men. That could be a problem for military workers in the building — even though the House voted last week to repeal "don't ask, don't tell," it's still being enforced.
Not soon after the video was up, a journalist friend–who is a bit of a military chaser–texted me saying, "I call BS.  There's no way there's that many guys on Grindr at the Pentagon."
The flaw in the "several pages of available men" result was that Grindr offers men who are within varying distances from your location.  It also doesn't pinpoint on a map, but instead says how may feet or miles someone is.
"Trust me," my friend said, who asked to be anonymous because of his embarrassment over having such an expansive knowledge of Grindr, "I've been near the Pentagon and those guys aren't military."
In the service of journalism, I turned on Grindr and decided to test it out for myself.  Since I live near the Pentagon, I drove down to the Pentagon parking lot and then checked out who was checking out who.
The result: there are a lot of guys.  But few of them are probably inside the Pentagon.
Here's the problem: The Pentagon is in a densely packed area where within 3,000 GPS feet there is a Shopping Mall, at least 10 high-rise apartment buildings and condos, and a huge collection of hotels and offices.
As my friend predicted, when you clicked on the person's picture it turns out they were 3,000 feet away.  That means they are just as likely to be a sales clerk at Abercrombie & Fitch as they are an Army officer looking for a little don't ask, don't tell action.
One of the ten closest people to me in the parking lot was someone who has waited on me at Starbucks.  And in 13th place was a guy I recognized from my neighborhood, and he definitely wasn't military.
When I got closer to the local Costco, the crowd on Grindr barely shifted.  Unfortunately, that means the guy with the dog tags on his naked pecs is probably buying tires and 40 rolls of toilet paper.
In addition, the Pentagon is notorious for having lousy cell-phone coverage inside the building.  That's why you see people talking on their phones outside the building.  So how reliable can GPS be if the can't even get cell coverage?
Mediaite Fact-Check Conclusion: This was a fun story, but anyone thinking the Pentagon has more gays than the audience at a Lady GaGa concert will probably be disappointed.  While it's true that D.C. seems to be ground-zero for gays in uniform, they aren't likely Grinding away from their desks.
Watch the original video below:
Have a tip we should know? tips@mediaite.com