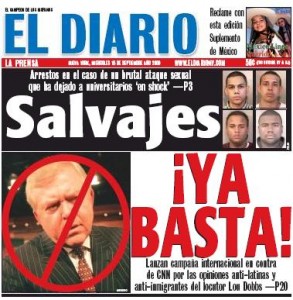 New York's preeminent Hispanic newspaper has had a spirited week.
On Monday, El Diario reprinted Sunday's editorial of sister publication La Opinión, which made a good case for —take a deep breath, Representative Wilson— extending health care rights to illegal immigrants.
A few passages:
Excluding these residents from healthcare reform is a very bad public policy no matter how you look at it. In principle, we believe that access to medical attention is a basic human right. But beyond the issue of fundamental human compassion, health coverage for all those who reside in this country is an issue of health and the economy.

First, there is the obvious danger of the transmission of diseases, not because they are being brought from other countries but because of the lack of medical attention in the face of the local spread of the illness. Next, there is the issue of dollars. Preventive care is the most effective way to control costs. An early visit to the doctor is much cheaper than the emergency room visit by a seriously ill patient.

It is unacceptable that healthcare reform is being used to make immigration policy. It is outrageous that an insulting outburst [that of Joe Wilson] receives public condemnation but is a hidden victory that wrongs immigrants by taking away the little that they already have.
Now, Rossana Rosado's newspaper has joined the Drop Dobbs campaign, an effort led by Latino rights organizations and Media Matters, and launched a full-force attack on the CNN anchor.
El Diario has repeatedly made the case against Lou Dobbs, proving the falsity of some of his statements and connecting his nightly rants to the beating and killing of Hispanics in the Tri-State Area. This time, the provocation was Dobb's appearance at the "Hold Their Feet to the Fire" conference in Washington, organized by anti-immigrant group FAIR.
Says the editorial:
Latinos, immigrants and others have stomached the hateful lies of pundit Lou Dobbs for too long. Dobbs has crossed one too many lines on his CNN-supplied nightly platform. He has triggered a backlash that has grown across the United States and into Latin America.

For several years, Dobbs has relentlessly attacked immigrants on an almost daily basis. His disdain for Latinos and immigrants is as obvious as his disdain for facts.

For Dobbs, it was okay to report that "illegal aliens" were causing an increase in leprosy. False. For Dobbs, the U.S. Hispanic Chamber of Commerce is in cahoots with drug cartels. False. And for Dobbs, it was okay to fundraise on his CNN web site in support of a Pennsylvania town's harsh anti-immigrant ordinances. Outrageous, all under the CNN umbrella as "the most trusted name in news."

After displaying a graphic that came from the white supremacist Council of Conservative Citizens, Lou Dobbs Tonight acknowledged its faulty vetting process. The Network called this action "regrettable."

But the reality is that Dobbs does not think twice about working with white supremacists. He partners with the Federation of American Immigration Reform (FAIR), a group he deems credible. The so-called "FAIR" was founded by the nativist and xenophobe John Tanton, who reportedly still sits on its board. According to the Southern Poverty Law Center, FAIR was bankrolled for nine years by the Pioneer Fund, an outfit once described by eugenics expert Barry Mehler as a "neo-Nazi organization."

…This begs questions about CNN. What responsibility does CNN itself have for turning its nightly prime-time broadcast over to a hate monger? Would the Network bring on KKK members to talk about issues affecting blacks? Would it allow Holocaust deniers to appear as regular experts on issues affecting Jews?
If this coalition will have the power to force Dobbs out of CNN remains to be seen. It would be an unprecedented victory for immigrant advocates in the middle of a complicated and explosive political scenario. But El Diario's campaign seems unusually determined. For tomorrow, they promise an editorial on "the nativist groups that love Dobbs".
Related:
Boycott Brewing Against Lou Dobbs [Mediaite]
Campaign Video:
José Simián is a producer at NY1 Noticias, where he hosts a literature and music interview segment. His writing has appeared in NY Daily News, Huffington Post, Sports Illustrated Latino and Billboard en Español. He will be writing the "Meet The Prensa" column for Mediaite.
Have a tip we should know? tips@mediaite.com