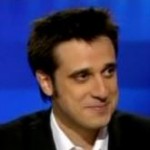 Where is the Hispanic New Yorker? What would a Latino-oriented equivalent look like? Questions like these have haunted me ever since I started working for a local Spanish TV station four years ago. And while I am aware that "a Hispanic New Yorker" could be an oxymoron —it can be seen as a product of a white-dominated world— the idea may be useful to try to explain the lack of sophisticated national outlets for the largest minority in the country.
Consider the television networks. Univisión regularly has over 3 million viewers in prime time, competing neck and neck with the traditional broadcast networks. NBC's Telemundo network, along with Azteca América and Univisión's cable signals Telefutura and Galavisión, add millions of viewers to the mix. Yet their power comes mostly from soap operas, showbiz programs and sports—not news or political coverage.
The lack of a clear standardbearer is more dramatic in the Hispanic press. The largest circulations belong to Los Angeles' La Opinión (92,289 on weekdays), Miami's El Nuevo Herald (a spin-off of The Miami Herald, 71,318), and New York's El Diario (52,780). But however influential these newspapers may be in their respective communities (El Diario's recent campaign for Sonia Sotomayor is a good example), their aim seems to be locally-oriented, and their journalistic and political clutch stops at the borders of their respective states. Countless other Spanish publications exist in the country, all following the same local, community-based structure.
This state of affairs may be due to the numerous national groups that fall under the Hispanic umbrella, each with its own slang and cultural references. Of the total Hispanics population living in the United States, 64% are of Mexican background and 9% are of Puerto Rican origins. From the remaining 27%, no country represents more than 3%. Furthermore, these Hispanic factions have gathered in different regions of the country. Thus, while the West and Southwest are largely dominated by Mexicans, Florida has traditionally had a Cuban majority, and New York a Puerto Rican one. From this perspective, then, a national Hispanic newspaper or magazine seems unlikely.
There is yet another obstacle for a unified high standard outlet: the language. As time goes by and Latino immigrants have children and grandchildren born in the United States, many of the new generations are more at ease with English than with Spanish. A 2007 study by the Pew Hispanic Center showed that, even when only 23% of Latino immigrants spoke English "very well," nearly all Hispanic adults born in the United States to Hispanic parents were fluent in the language.
This language shift in Hispanics creates a paradox for media. Even when outlets can rely on a constantly growing audience due to immigration and a birth rate three times higher than that of general population, many of its potential readers and viewers switch to mainstream English media upon reaching a certain degree of English proficiency and cultural assimilation. Hence, Hispanic media is set to constantly lose some of its more sophisticated audience. In mainstream television, this may explain sticking to basic entertainment; in print, it favors basic coverage of local news, sports and —once again— showbiz. (It is not surprising that the only successful Latino magazine at the national level is People en Español.)
New media outlets are emerging to cater to the young bilingual or English-speaking Hispanic demographic. An interesting example is Guanabee, a growing pop culture website that attempts to give "a fresh glance into the world of Latino affairs without the sentimentality or stereotypes found in other media." "The Spanish market is well saturated, but no one was talking to people like me about what it meant to be Latino in this country," says co-founder Cindy Casares, a fifth-generation Mexican-American journalist. (Targeting the bilingual and bicultural Latinos has also been attempted by NBC's bilingual Mun2 cable station, as well as Latino sections in newspapers like "Viva" in New York's Daily News, and "Tempo" in the New York Post.)
Something else is missing in this conversation: media criticism. This column will be an effort to give a more detailed account of the achievements and challenges of Hispanic outlets; a modest attempt to bring this immense cobweb of newspapers, TV stations and websites to standards comparable to those of our Anglo-Saxon colleagues.
Mediaite readers, please meet the prensa.
(And while we're at it, I'll keep reading the New Yorker for inspiration.)
José Simián is a producer at NY1 Noticias, where he hosts a literature and music interview segment. His writing has appeared in NY Daily News, Huffington Post, Sports Illustrated Latino and Billboard en Español. He will be writing the "Meet The Prensa" column for Mediaite.
Have a tip we should know? tips@mediaite.com