Well! So the New York Times decided to take a cue from us and get in on the Megan Fox Experience, complete with their own version of an "About 800 Pairs of Megan Fox's Boobs" slideshow. Since it feels about two months late on the Megan Fox hype (SNL seemed to cap it off) I am curious about how that will do traffic-wise, but who am I kidding, it's Megan Fox, it'll do juuuuuust fine, despite that toe-thumb thing. To be honest, that makes us love her more.
We are not alone in that, or at least in giving her due attention — that is something she for which she does not lack. But how to find something original to say about Megan Fox by this point? We could write her a poem, but that's already been done (nice last line, Balk, chicks love seeing that). We could make a giant slideshow, but that's been done, too, by us and by far more slavishly dedicated people.
It came to us yesterday at the International Center for Photography, during a fantastic, mesmerizing lecture by curator Maya Benton displaying some treasures from their collection (really, I cannot recommend this place enough, it is an absolute NYC gem. Go). One of the photographs displayed was of artist Frida Kahlo in her youth, and with far less of the make up (and unibrow) with which we are accustomed to seeing her. I was immediately struck by how much she looked like someone who might fearlessly battle a robot-machine. If you doubt, consider this: Museo Frida Kahlo recently hosted an exhibit called "Dualidad Y Transformación" — Transformación, Transformers — coincidence? I think not.
Kahlo once said, "I paint myself because I am often alone and I am the subject I know best." Sound like anyone we know? Maybe a little: "I do live in a glass box. And I am on display for men to pay to look at me. And that bothers me. I don't want to live that character." I bet Frida Kahlo and Megan Fox would have understood each other. But anyway, they certainly look alike. Agree? Disagree? See below!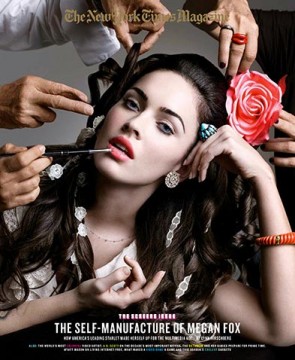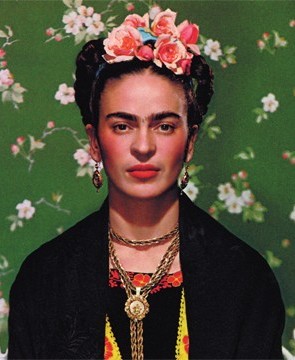 The Self-Manufacture of Megan Fox [NYT]
Slideshow: The Starlet So Far [NYT]
Ode To A Hot Chick From The Movies [The Awl]
What Megan Fox Has In Common With Barack Obama [Mediaite]
What Megan Fox Has In Common With Barack Obama [Esquire, after Mediaite]
About 800 Pairs of Megan Fox's Boobs [Mediaite, still a very popular post thanks to Google Search]
A Completely Unnecessary NSFW Megan Fox Mega Gallery [Jalopnik]
Have a tip we should know? tips@mediaite.com