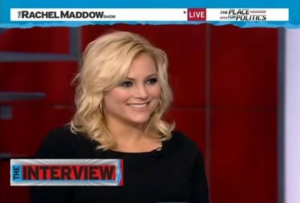 In March of 2009, Meghan McCain caught a lot fo flak from some conservatives for appearing on the Rachel Maddow Show. Last night, she returned to promote her new book Dirty Sexy Politics. During the lengthy interview she discussed topics like gay rights, the future of the Republican Party, and her own future. Defending her choice to appear on the show, she remarked that "we can't just have Republicans going on Fox and Democrats going on MSNBC."
The first section of the interview mostly dealt with her views that the Republican Party needs to start catering more to "moderate conservatives" which she also had discussed in her first Maddow appearance. She also, throughout the interview, talked about how difficult it was to be more moderate in this day and age. At one point, she remarked how most conservatives seemed to think it was more defensible to have had a sex tape than to support gay marriage.
Gay rights were extensively discussed in the second part of the interview. Maddow pushed her to talk about how hard it was to have such different views that her father on the subject. McCain, instead, wanted to focus on President Obama and how, in her opinion, the media hadn't pressured him nearly enough on his limited to complete lack of action on repealing Don't Ask Don't Tell and fighting for gay marriage. She argued that gay rights seemed to be an issue that was divided by generational lines, which made it so strange that Obama, "significantly younger" than her father, hadn't been working harder.
Later, she talked about how there should be a website and meeting place for moderate conservatives. Maddow joked that, with so many moderates losing in the Primaries, there will be plenty of people to join her and McCain countered that they can all meet, even if it will have to be in her apartment.
All in all, it was an entertaining interview with an engaged host and a guest who, no matter what her politics, seemed happy to be there. Watch it below:
Part 1:


Part 2:

Have a tip we should know? tips@mediaite.com