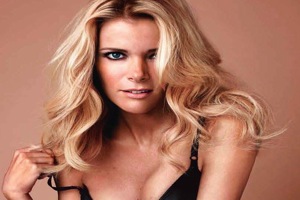 It's no secret that Fox News' Megyn Kelly is a bit of a sex symbol– her America Live desk would probably not be made of glass if that weren't the case. But this week she's taken a leap from the coy to the boldly forward with a sexy photo shoot in GQ in celebration of being named one of 2010's premier media personalities, and the results lie somewhere between the impressively attractive and the uncomfortable superficial.
Under the headline "She Reports, We Decided She's Hot" (seriously), Kelly appears wearing a severely low-cut dress and staring rather lasciviously into the camera. She's not showing any more than the average starlet– and looks much better than many of those– but is wearing a shockingly little amount of clothing for a newscaster on a national network. But she can pull it off, and barely looks like the sweet, giggly Kelly most tune in to see– in fact, she looks a bit like what we would have imagined healthy, pre-drugs Lindsay Lohan would have looked like at age 26 when she was 18 (for those counting, Kelly is 40 as of this Thursday). And she does no harm in selling her product, so long as the quality of her work is unaffected.
But there's still something strangely uncomfortable about the idea that an anchor who seems to want to be taken seriously will strip down for an easy attention-grab, and that really isn't Kelly's fault. She can do as she pleases when her ratings are what they are, but it's the angle that GQ takes on her work that makes it problematic. GQ reporter Greg Veis deliberately makes the crux of his piece that she is "hot," and that people watch her because she is "hot" and not because she is a good reporter. Half the interview is about how proud colleague Brit Hume apparently was of a false rumor that the two were having an affair–a not-very-interesting topic the interviewer seems to employ to create the perception– based on absolutely no evidence– that Kelly is seen as little more than an ornament in her work environment. The other questions imply that her following consists exclusively of ravenous males and, well, there is one serious question on the influence Glenn Beck has on America. The questions asked and the way her answers are edited are not Kelly's fault. It is certainly possible to interview her with the respect she deserves, and it's been done many times before. Veis opted not to.
And no, the pictures don't exonerate him for trivializing her journalistic prowess. Had a male media figure stripped down similarly, they would have been treated just as if the shoot had been done wearing coats. We know this because it has happened before: no one thought less of Andrew Breitbart for doing a nude photo shoot with Time. Keith Olbermann wasn't objectified into irrelevance for actively campaigning to become the 2004 Playgirl Sexiest Newscaster (and winning). Because they are male, their exploration of a public semi-sexual persona was treated as comedy, a recurring theme with male sexuality, notable exceptions (Jon Hamm) aside. Not that this is quite fair to the males involved, either– there is a balance between treating sexuality and respect as mutually exclusive and treating it as a punchline, and neither extreme is healthy, though the latter clearly preferable in a business where institutional sexism has only recently begun to erode. Blaming the victim– the kneejerk reaction when seeing pictures like this of Kelly, or those of Breitbart, or Olbermann's admittedly intentionally humorous campaign– for bringing their physical appeal into the conversation is not going to solve the problem.
Megyn Kelly GQ Men of the Year Issue


[h/t TVNewser]
Have a tip we should know? tips@mediaite.com