Mika Brzezinski Compares Joe Scarborough To 'A Gay Stylist' In NYT Interview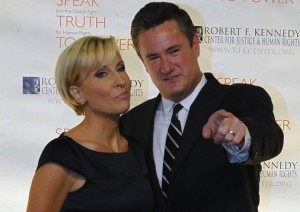 Last week Mika Brzezinski sat down and answered a few questions about her career and daily routine for The New York Times. Naturally, the interview soon took a turn into Scarborough country, and Brzezinski compared her co-host to a "gay stylist" and talked in some detail about the weird chemistry the two of them seem to have on Morning Joe.
RELATED: Joe Scarborough Shares What Mika Brzezinski's Family Thinks Of Her SAT Scores
Brzezinski proudly acknowledges that unlike so many of the other female morning show hosts, she doesn't pretend to be happy or chipper, she just comes on with the same attitude as she would any other time of the day. Andrew Goldman, the Times interviewer, notes with some surprise that Joe Scarborough accompanied her to the photo shoot and was sitting right near her during the interview. Here's the full exchange that follows this observation:
Here's the bottom line. And don't you jump out of your chair. He's a little bit like a gay stylist.

Joe's like a gay stylist?
Seriously. Talk to his wife or any of her friends. He has got a real side to him that knows style and look and color and hair. He's amazing. Amazing. I can't dress. I have a terrible eye.

Does Joe style your hair?
Joe? Touch my hair? No, but he'll tell me to put it down, because I always want to make it big. [Here, Joe interjects: "It's not the '90s anymore!"]
Brzezinski openly admits not really caring much for, or about, her co-host's former MSNBC program, and whenever she would say "Now back to Scarborough Country," it was with some audible sarcasm in her voice. And apparently, this interested Scarborough in Brzezinski enough to get her to work with him on the morning show.
She also opened up about the culture of how women interact with each other in a professional news environment. Goldman notes that in her book, Knowing Your Value, she says all the negative comments she got about her appearance came from women. Brzezinski dismissed the notion of some kind of "sisterhood" among women in TV news, and said that on the whole women know how to "play into each other's weaknesses."
h/t New York Times
Have a tip we should know? tips@mediaite.com
Josh Feldman - Senior Editor