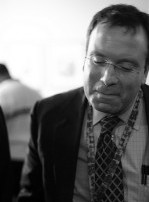 Get it? Because her name is Blanche.
Washington Post columnist and Power Grid #3 Dana Milbank delivers an impassioned Sunday column today, using a literary allusion and extended metaphor to describe the dealmaking that occurred yesterday in the Senate. It's all very Southern — straight out of a Tennessee Williams play, he contends in "Sweeteners for the South." And it may sound like your typical gimmicky op-ed fare, but it works this time. I mean, her name is Blanche.
Her, of course, being Sen. Blanche Lincoln of Arkansas, the final hold out among the Democrats in the Senate, all of whom were needed to keep the bill alive. The other Senator in need of wooing was Sen. Mary Landrieu of Louisiana, who earlier in the day agreed to support the proliferation of the legislation in return for a financial "fix" for her state. "And it's not a $100 million fix. It's a $300 million fix," she said.
Milbank writes:
The plot was gripping — the bill survived Saturday's procedural test without a single vote to spare — and it brought out the rank partisanship, the self-absorption and all the other pathologies of modern politics. If that wasn't enough of a Tennessee Williams story line, the debate even had, playing the lead role, a Southerner named Blanche with a flair for the dramatic.
On Lincoln, he continues: "Like other Democratic moderates who knew a single vote could kill the bill, she took a streetcar named Opportunism, transferred to one called Wavering and made off with concessions of her own."
The entire story is an illustrative tale of politics in their most nakedly loathsome, "we always knew it was this way" way, spun by Milbank into a compelling narrative. It's a perfectly frustrating and instructive Sunday read. And here it is.
(h/t Pat's Papers)
Have a tip we should know? tips@mediaite.com