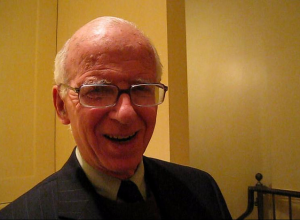 David Broder, the Dean of the Washington press corps, passed away today. He was in the business for almost 60 years, longer if you count his work during his military service. During that time, by all accounts, he always had a nice word and a helpful tip for those who were slightly less seasoned. This is what I thought of upon hearing the news, because just two years ago, I was one of those people.
It was during the mad crush of Inauguration Weekend, and The Atlantic was hosting a party on the even of the big day at the home of David Bradley on Embassy Row. It was a good one, smallish, where conversations happened naturally between movers and shakers collecting across drawing room, dining room and pantry. It was in the latter that I happened upon Broder sitting in conversation, and far more welcoming of interruption than many others present.
It was my first Inauguration, so even though it certainly felt historic, I had no way of really being sure. So who better to ask than one who had been there before – 13 times when we spoke, and 14 times by the end of the next day. I got him reminiscing about coming to D.C. for Eisenhower's second inauguration in 1957 – at age 27, and why he liked Ike:
Eisenhower was, for me, as for a lot of other people of that time, a real national hero – he liberated Europe before he ever thought about running for President – and going to a party where he and Mamie made a five-minute appearance was a big deal…Later on I started going to some of his news conferences, which was even more fun. It was exciting.
It was really quite amazing to hear him reminisce about not only a different era but so many eras ago, and compare it to the feeling in the country at the dawn of the Obama administration. (It was also a great reminder of his work ethic, as he pointed out that he wouldn't be quite partying it up as in 1957 because "I've got a lot of work to do tomorrow.") I appreciated the moment then, and today I appreciate it even more. Watch our brief interview below:
***NB: The title of this post is taken from the name I gave this exchange at that time, as written
here
. I liked it, and decided to keep it today.
Have a tip we should know? tips@mediaite.com