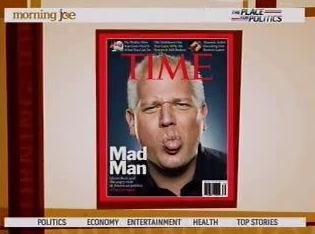 Time magazine took a break from putting Pres. Barack Obama on their cover to give a cover story to his buddy, Fox News host Glenn Beck. The article, headlined, "Mad Man," asks, "Is Glenn Beck Bad for America?"
As he does each week, Time Editor Rick Stengel made the announcement on Morning Joe, and the MSNBC hosts each weighed in on Beck.
After first joking he didn't want to talk about the cabler rival, Scarborough summed up his thoughts. "Glenn Beck's really taken off and despite the fact, maybe because of the fact, he said some very intemperate things," he said. "When you try to nail him down he'll go 'oh I'm just a rodeo clown.' Well this 'rodeo clown' is making a lot of people very angry."
And Beck fans are sure to love this description from Mika Brzezinski. "I will say that my reaction is one of real concern," she said. "I think it's because I feel like the conservative voice isn't being well-represented. That he's tapping into something that may not be so constructive in terms of raising the bar of the conversations and representing the conservative voice in an elegant way."
Pat Buchanan weighed in as well. "He mirrors the anger, the frustration, and the rage and the sense of fear and apprehension in Middle America that they're losing the country they grew up in," said Buchanan. "He mirrors it, and to a degree he leads it and I think the word 'stokes' is fair as well."
It's not surprising to see the media star of the moment on the cover of a newsweekly. But with no comment from Beck or anyone at Fox News in the article, the unauthorized profile is sure to draw the ire of many at News Corp. And it will probably bring Beck to address the story directly on his radio and TV shows.
Here's part of the lengthy Time cover story:
Beck is 45, tireless, funny, self-deprecating, a recovering alcoholic, a convert to Mormonism, a libertarian and living with ADHD. He is a gifted storyteller with a knack for stitching seemingly unrelated data points into possible conspiracies — if he believed in conspiracies, which he doesn't, necessarily; he's just asking questions. He's just sayin'.
Interestingly, it looks like the cover is a shot from the controversial Jill Greenberg photo shoot for GQ magazine in June.
Here's the exchange on MSNBC this morning:
—–
» Follow Steve Krakauer on Twitter
Have a tip we should know? tips@mediaite.com