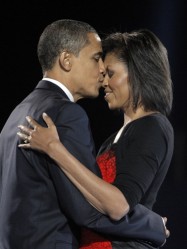 There is still money to be made in book publishing, apparently. Sort of. Last year we saw the temporary effect the Obamas had on the print world when one or both of them graced practically every magazine cover known to man, and newspapers sold out the day after both the election and the inauguration. Apparently the publishing world feels there's still enough juice to be squeezed out of the first couple that they are willing to cough up seven figures for it. Per the New York Observer:
New York Times Washington correspondent Jodi Kantor has secured a stunning seven-figure book deal this week with Little, Brown to write a volume on the Obamas.

The deal was the result of a heated citywide auction, and was brokered by independent lit agent Elyse Cheney. It comes on the heels of the 34-year-old reporter's New York Times Magazine cover story on the Obamas' marriage, which argued that "the Obamas mix politics and romance in a way that no first couple quite have before."

According to several sources, Ms. Kantor's book will draw on the three years of reporting she has done since giving up the editorship of The Times' Arts & Leisure section, in 2005. During the campaign, Ms. Kantor produced a number of biographical stories about the president and his inner circle, including one on his time at the head of the Harvard Law Review, one on his career as a law professor, one on his basketball-playing and one on how his friends were bracing themselves for his presidency.
So basically this sounds like more of a cult of Obama personality book than it does a recent history. A good decision based on recent poll numbers which suggest the personal will the country feels toward Obama has not bled over into support for his policies.
Have a tip we should know? tips@mediaite.com