NBC Falsely Reports Trump SCOTUS Nominee Opposed Military Recruiters in College
NBC News erroneously reported Wednesday that Donald Trump's Supreme Court nominee Neil Gorsuch opposed allowing military recruiters on campus while he was a student at Columbia University.
"As a Student, SCOTUS Nominee Gorsuch Supported Gays and Opposed Campus Military Recruiters" reported NBC News initially. Going through the archives of the student paper, they found that Gorsuch once wrote in 1987 that recruiters should be banned from campus until the military repealed its ban on openly homosexual members.
"It is an accepted fact that all four branches of the U.S. military discriminate against men and women based on their sexual preferences… Unless it's prepared to hire applicants regardless of race, sex, class, religion, or sexual preference, the military should be denied the use of Columbia facilities to recruit," Gorsuch supposedly wrote.
Indeed, reading that day's edition of The Columbia Daily Spectator, it sure looks like Gorsuch made that argument.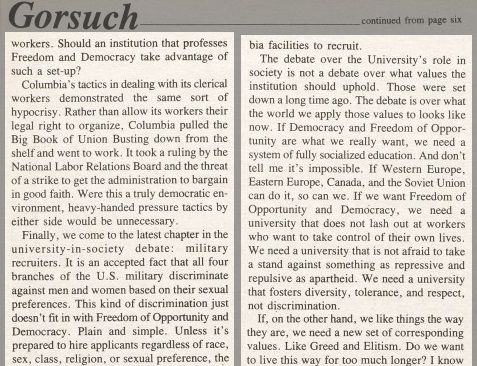 What NBC missed however was that the then-radical stance was falsely attributed due to a formatting error after the jump: another student made that argument, while the tail-end of Gorsuch's op-ed was likewise attributed to the other student. The next day, The Columbia Daily Spectator ran a correction noting that Gorsuch had said no such thing.
On the contrary, while running for student senate, Gorsuch made a strong defense of allowing Marines to recruit on campus on free speech grounds:
The question here is not whether "the Marines should be allowed to recruit on campus" but whether a University and its community, so devoted to the freedom of individuals to pursue their own chosen lifestyles and to speak freely, has the right or obligation to determine who may speak on campus or what may be said. To fulfill an immediate end, we are likely to forget the underlying principle that every human being, according to our nation's proclamations, and reinforced by our University's standards, has an inalienable right to express himself or herself—whether we agree or not. Free speech works; it works better than any form of censorship or suppression; and in exercising vigorously, the truth is bound to emerge.
NBC News has since updated its story to acknowledge the error. "As a Student, SCOTUS Nominee Gorsuch Held Dim View Of Campus Protesters," the headline now reads.
[Image via screengrab]
—
>>Follow Alex Griswold (@HashtagGriswold) on Twitter
Have a tip we should know? tips@mediaite.com