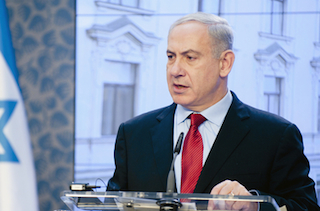 The geopolitical grade school drama that is Israeli Prime Minister Benjamin Netanyahu's upcoming visit to the U.S. House of Representatives got yet another scene Tuesday evening, as a letter was obtained by Reuters in which Netanyahu declined an invitation to meet privately with Senate Democrats.
President Barack Obama has accused House Speaker John Boehner (R-OH) of politicizing Israel with his invitation that excluded the White House, which has been called a breach of diplomatic protocol. Senators Dick Durbin (D-IL) and Dianne Feinstein (D-CA) invited Netanyahu to a closed-door meeting during the same visit, as at least two dozen Democrats have announced they will boycott his congressional address.
RELATED: Did Boehner Just Admit He Kept White House Out of the Loop on Netanyahu Invitation?
No dice. "Though I appreciate your kind invitation to meet with Democratic Senators, I believe that doing so at this time could compound the misperception of partisanship regarding my upcoming visit," Netanyahu wrote. "I regret that the invitation to address the special joint session of Congress has been perceived by some to be political or partisan. I can assure you that my sole intention in accepting it was to voice Israel's grave concern about a potential nuclear agreement with Iran that could threaten the survival of my country."
The White House has said Obama will not meet with Netanyahu on his visit, claiming they do not want to interfere with a foreign election. Netanyahu is fighting at home for reelection.
"We offered the prime minister an opportunity to balance the politically divisive invitation from Speaker Boehner with a private meeting with Democrats who are committed to keeping the bipartisan support of Israel strong," Durbin said in a statement. "His refusal to meet is disappointing to those of us who have stood by Israel for decades."
Ahem:
An Israeli PM refusing to meet stalwart pro-Israel senators such as Feinstein and Durbin seems unprecedented: http://t.co/CPjhSikIdi

— Jeffrey Goldberg (@JeffreyGoldberg) February 25, 2015
[h/t NBC News]
[Image via yakub88 / Shutterstock.com]
——
>> Follow Evan McMurry (@evanmcmurry) on Twitter
Have a tip we should know? tips@mediaite.com